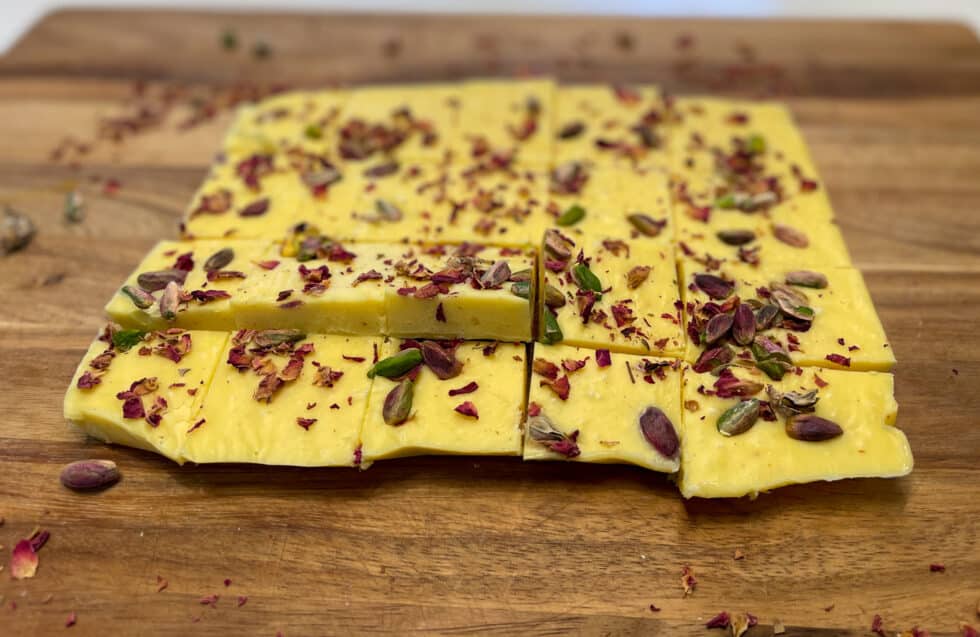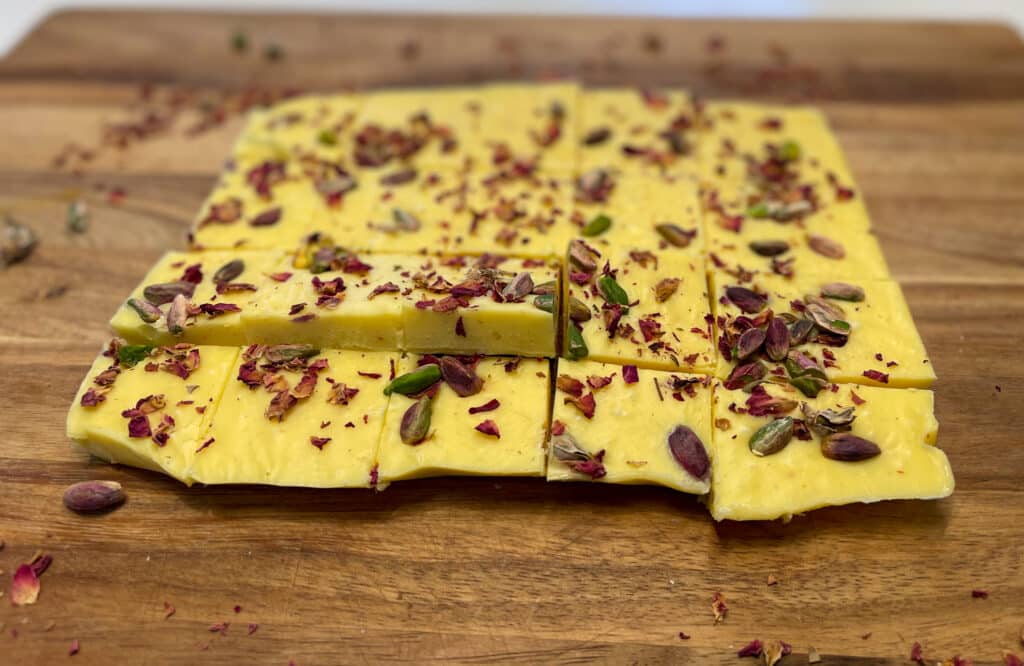 Let's make a white chocolate fudge recipe, shall we? Before we start, let me share a few differences between American and Afghan fudge.
Differences between American and Afghan Fudge.
Afghan fudge, known as sheer pira, is not as rich as American fudge. It is usually made with milk powder, so its texture is not as buttery. But, we Afghans love it and I encourage you to try my recipe.
Key Tips in Making a Good White Chocolate Fudge Recipe.
The first essential tip is to melt your chocolate smoothly and steadily. This is why I always use a double-boiler method. Watch my video because you don't need a fancy double boiler; you can make one yourself.
Using a microwave might be faster sometimes, but it will be less predictable and I always just explode the chocolate in my microwave lol.
Printable White Chocolate Fudge Recipe
As always, we have a quick and easily printable recipe below. If you like this recipe, please leave a review. The more reviews you get, the better the search engines like our videos. Also, please take a minute to subscribe to our YouTube video channel. Leave a comment!
Did you see a kitchen appliance that I used and loved it? I've put all the things here in my influencer store. I get a small commission if you buy anything, and you help support these free recipes!
Want Secret Recipes? News Updates?
Subscribe to our Afghan Cooks Club now. (free secret recipe for signing up)
Print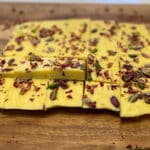 White Chocolate Fudge Recipe – Afghan Style
---
Description
This simple white chocolate fudge recipe can be made in the morning and taken as a gift in the afternoon. It is that easy.
---
16 ounces white chocolate chips
small bowl of saffron threads
1/2 teaspoon white sugar
2 tablespoons warm milk
3 tablespoons butter
1 teaspoon of salt
7 ounces of sweetened condensed milk
1 teaspoon rose water
1/2 teaspoon of ground cardamom
Pistachios
Rose Petals (optional)
---
Instructions
1. Prepare your tray, and set up your double boiler. (watch the video on how to do this)
2. Add the white chocolate chips to your bowl.
3. Next, create your saffron-steeped mixture. Take the saffron strands and grind them with the sugar. After that, add your warm milk. Let that sit a few moments. It will turn a golden yellow.
4. Add butter and salt to the same bowl.
5. Now, heat the water below your bowl in your double boiler and stir until the chocolate chips are melted, and you have a smooth mixture.
6. Once melted, add your saffron-infused milk mixture, rose water, and cardamom.
7. Pour your mixture into the prepared tray. If you wish, spread rose petals and or pistachios over the top for decoration. Let set for 2 hours, or put it in the freezer to harden it faster.
Recipe Card powered by