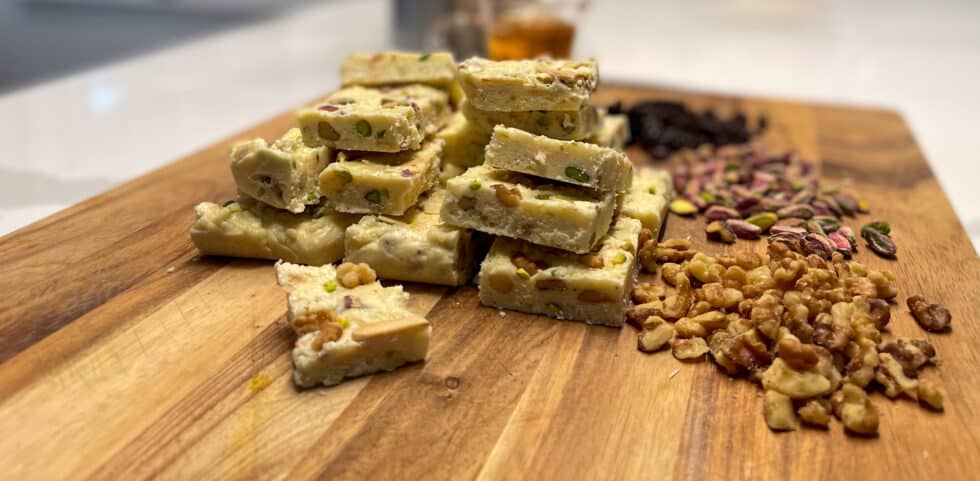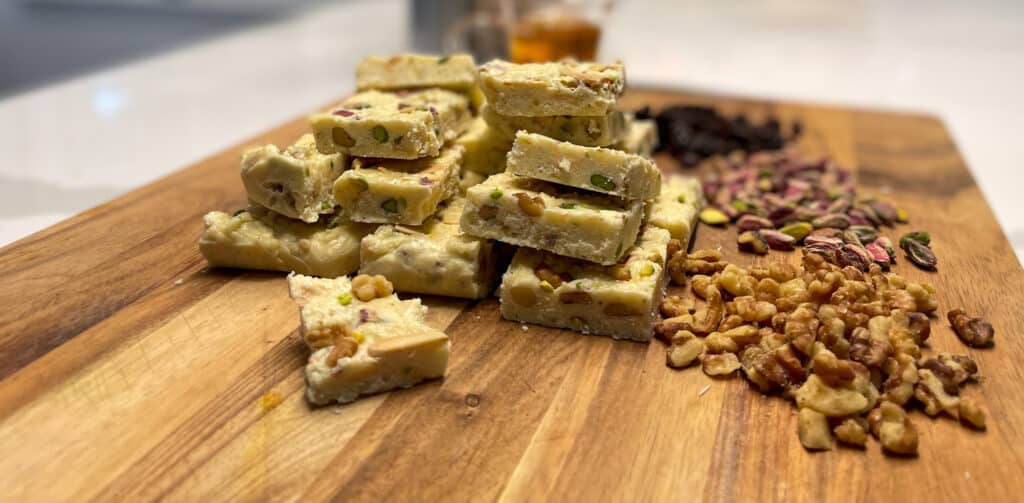 Sheer pira is Afghan milk fudge. It is hugely popular in Afghanistan. I was born in Kandahar but moved here at 18 months in the early 70s. Growing up in America, we didn't eat much of this, but I have grown to love it. Let's make it.
What's Unique about Afghan Sheer Pira?
Well, Afghan fudge typically has all of your most popular Afghan flavors pistachios, sometimes rose, etc. I use three kinds of nuts in this recipe: almonds, pistachios, and walnuts. You can use almost any kind of nut you have in the house.
Also, this recipe has salt in it! It is not as decadent tasting as American fudge and goes perfectly with a glass of Afghan chai.
Printable Afghan Sheer Pira Recipe and My Socials.
As always, we have a quick and easily printable recipe below. If you like this recipe, please leave a review. The more reviews you get, the better the search engines like our videos. Also, please take a minute to subscribe to our YouTube video channel. Leave a comment!
Did you see a kitchen appliance that I used and loved it? I've put all the things here in my influencer store. I get a small commission if you buy anything, and you help support these free recipes!
Want Secret Recipes? News Updates?
Subscribe to our Afghan Cooks Club now. (free secret recipe for signing up)
Print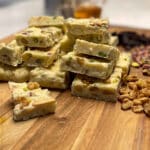 Sheer Pira Afghan Milk Fudge
---
Description
Want to try a new kind of fudge? Make Afghan Sheer Pira.
---
2 Cups Water
2 Cups Sugar
2 1/2 Cups Milk Powder
1 Teaspoon Cardamom
1 Teaspoon Rose Water
1/2 Teaspoon of Salt 
A handful of nuts of your choice (I like pistachios at a minimum!)
---
Instructions
1. First, prepare your baking sheet. I use a square one. Line with parchment paper, grease the parchment and clip down on the sides.
2. Now, you will make your sugar syrup. Take your sugar and water and bring the water to a boil in a saucepan. 
3. Then, reduce your mixture to a simmer for about 15 minutes. You want a lovely syrup. 
4. After 15 minutes, you will add your milk powder. Stir in. Also, add your cardamom, rose water, and salt. You want a lovely batter-like texture. Fold in your chosen nuts. 
5. Now, bring out your prepped baking pan and pour in. I then decorate it with a few more pistachios. Let set for at least 2 hours or overnight.
6. Cut fudge into squares and serve with some Afghan chai. 
Recipe Card powered by