The chicken kabob salad recipe is here!
It is summertime, and we all reach for the standard grilled chicken salad, don't we? But let's be honest, it is usually not that tasty, right?
Dry and flavorless, it seems more of a punishment than anything.
I have a cure for what ails you. Using Afghan spices, my chicken kabob salad will make your next salad not feel like such a punishment.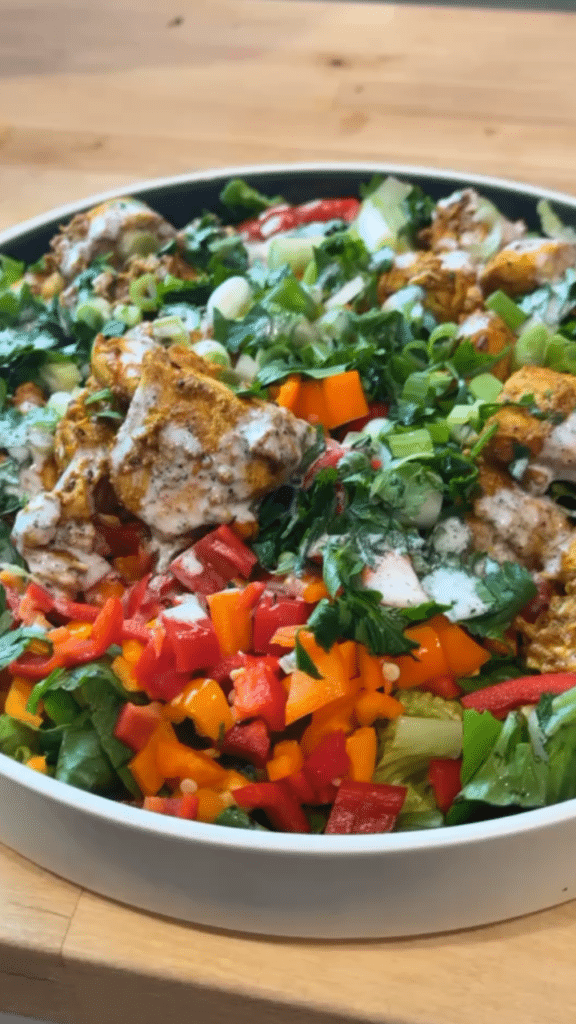 Keys to success for a good grilled chicken salad
The first key is flavor. You need to marinade and spice it up to get a good taste. This recipe uses fat-free yogurt and delicious spices to keep the calories down and the tastiness up.
The worst part of a bad grilled chicken salad is that the chicken is cooked for four days with no spice. It's honestly a choking hazard.
The second key is excellent dressing. You can easily ruin a calorie count with a heavily oiled dressing. Our yogurt dressing is low fat and packed with flavor.
You can have a healthy, flavorful salad if you are smart about it.
This Chicken Kabob Recipe is Below
As always, you can quickly print out our recipe.
Have any ideas for changes to the recipe? Let me know by leaving a comment.
One of the main keys is to allow time for your chicken to marinate in the sauce. Don't cut yourself short there.
Are you a fan of Afghan Cooks and want to help spread the word? Well, social media is critical. Finally, don't forget us on social media. We are on Tik-Tok, Instagram, and Youtube.
We also have a wonderful non-spammy Afghan Cooks Club. Sign up for that too!
Want Secret Recipes? News Updates?
Subscribe to our Afghan Cooks Club now. (free secret recipe for signing up)
Print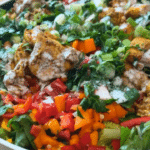 Chicken Kabob (kebab) Salad
---
Description
This chicken kabob salad will be the best-grilled chicken salad you've ever tasted.
---
2 Chicken Breasts
1 Tablespoon Cumin
1 Tablespoon coriander
Marinade ingredients
1 Cup low fat yogurt
1 Tablespoon Lemon Juice
1 Tablespoon Ginger Garlic Paste
Tumeric
Paprika
Garam Masala
1/4 teaspoon cinnamon
1 and 1/2 teaspoon salt
1/2 teaspoon ground black pepper
Dressing Ingredients
1 Cup low fat yogurt plain
2 tablespoons mayonnaise
4 Roasted garlic cloves
1 tablespoon lemon juice
one handful of dried mint

1/4 Teaspoon of salt
1/2 Teaspoon of Sumac
Salad Ingredients – Use whatever you like for your salad.
---
Instructions
1. Toast your cumin and coriander. Grind in mortar and pestle.
2. Next, make marinade. Mix yogurt, lemon juice, ginger garlic paste, tumeric, paprika, garam masala, cinnamon, and salt.
3. Now add two teaspoons of the toasted cumin coriander mixture to the marinade. Add your chicken, wrap, and let marinade at least an hour.
4. Next, grill your chicken. Add a little oil to pan and grill chicken.
5. After that make your dressing. To your blender add yogurt, mayo, garlic, lemon juice, mint, salt, and sumac.
6. Last, make a salad to your liking. I always use whatever veggies I have in my house.
7. Add grilled chicken to your salad, cover with homemade dressing.
Notes
This salad goes well with a piece of our homemade naan recipe.
Recipe Card powered by