Meatball and Sauce Recipe is here! Otherwise known as Afghan kofta, this recipe is simple and delicious.
Almost every culture has a meatball: Italians, Turks, Polish, Korean and more have their own meatball.
Learn how I make ours.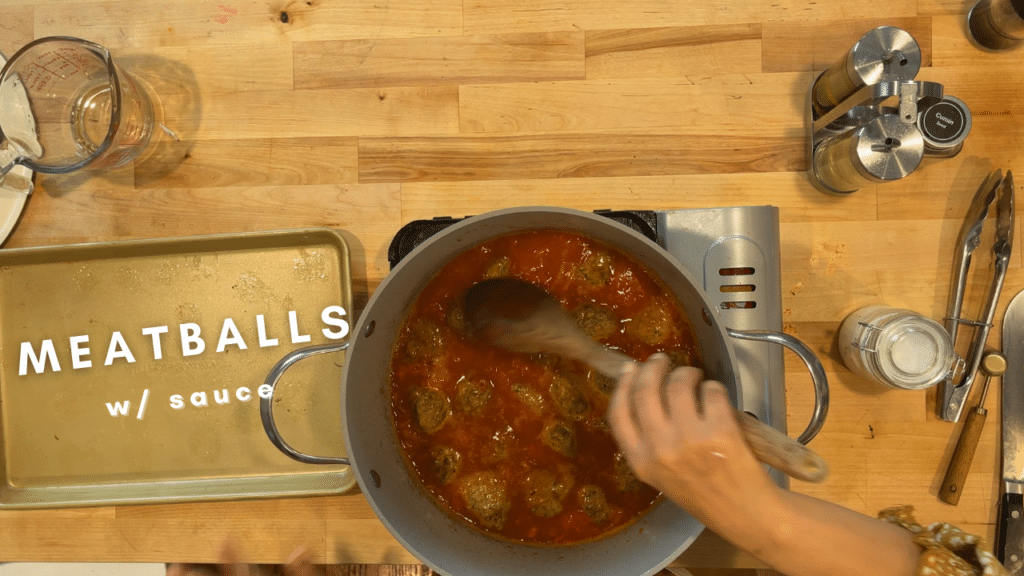 What makes meatballs so great?
There are many reasons why meatballs are so great. For one, they are a very versatile dish. They can be served as an appetizer, main course, or even a side dish.
Additionally, they are relatively easy to make and can be made ahead of time, which makes them ideal for busy weeknights or entertaining. Finally, meatballs are just plain delicious!
Ours are usually made with ground beef or lamb and are often seasoned with herbs and spices like garlic, onion, salt, and pepper. This combination of flavors results in a juicy, flavorful meatball that is sure to please everyone at the table.
In my recipe here, to be a little healthier, I use turkey in my meat mixture.
Meatballs and Sauce Recipe – You Need that Sauce
Almost every meatball recipe around the world has a common shared element – a sauce. There are a few reasons for this.
Meatballs can get dried out. A sauce is a great way to keep the meatballs plump and delicious.
Also, flavor. A good meatball should have lots of flavors packed into it. However, a good sauce adds just another layer of deliciousness.
If you make meatballs, you gotta have that sauce.
The Recipe
As always our easily printable recipe is below. Don't forget to watch the video. I always find it is much easier to learn a new recipe if I watch someone else make it one or two times before I sit down and get started.
Are you a fan of Afghan Cooks and want to help spread the word? Well, social media is critical. Finally, don't forget us on social media. We are on Tik-Tok, Instagram, and Youtube.
We also have a wonderful non-spammy Afghan Cooks Club. Sign up for that too!
Want Secret Recipes? News Updates?
Subscribe to our Afghan Cooks Club now. (free secret recipe for signing up)
Print
Afghan Meatballs
---
2 Lbs Ground Meat
2 Teaspoons Paprika
2 Teaspoons Sumac
2 Onions (food processed)
1/2 Bunch parsley and dill (parsley great too)
2 Teaspoons of Cumin
2 Tablespoons Ginger Garlic Paste
1 Tablespoon Coriander
1 Teaspoon Tumeric
Garam Masala (optional)
2 Teaspoons Salt
2 Teaspoons Black Pepper
2 Tablespoons Tomato Paste
Sauce Ingredients
2 Tomatoes
1 Small Onion
---
Instructions
1. Get our your food processor. Next, add your onions, green herbs (dill, cilantro, parsley, whatever you have), and then food process until fine.
2. Next, add your meat into the food processor and food process the mixture with the meat added.
3. Remove mixture from the food processor and place into a bowl. Add all of your spices and blend with your hands. 
4. Next, grease cookie sheet and make your meatballs. (quick trick, fill bowl with water and put water on hands. this will help them from sticking to your hands)
5. Cook meatballs in 425 degree oven for 20 minutes.
6. Next, make your sauce. Add two tablespoons of olive oil to your pot.
7. Add 1/4 Cup of chopped onion, 3 chopped tomatoes 1 teaspoon of sumac, and 1 teaspoon of cumin. Let cook down. You can check the tomatoes absorb the oil and then after they cook the oil will release again. Mush your tomatoes as your continue to cook them.
8. Next, add about two tablespoons of tomato paste. Stir thoroughly. 
9. After that, add your water. Add about 2 1/2 Cups of water. Allow this to come up to boil. Add 2 teaspoons of white vinegar and black pepper. Allow sauce to simmer and reduce slightly.
10. Now, add meatballs into sauce. Allow simmering in the sauce. Some like to par-cook their meatballs and finish in the sauce. Cook to your preference.
11. Serve with our Afghan white rice.
Recipe Card powered by