Let's make Firni!
Looking for a new dessert to try? Why not make firni, an Afghan custard that is both delicious and easy to make.
This recipe is perfect for summer days when you want something sweet but doesn't want to spend too much time in the kitchen. The best part is that firni is topped with pistachios, so it's a great way to get some healthy fats into your diet!
The Firni Recipe and How You Can Help Afghan Cooks.
As always our easily printable recipe is below. Don't forget to watch the video. I always find it is much easier to learn a new recipe if I watch someone else make it one or two times before I sit down and get started.
Are you a fan of Afghan Cooks and want to help spread the word? Well, social media is critical. Finally, don't forget us on social media. We are on Tik-Tok, Instagram, and Youtube.
We also have a wonderful non-spammy Afghan Cooks Club. Sign up for that too!
Want Secret Recipes? News Updates?
Subscribe to our Afghan Cooks Club now. (free secret recipe for signing up)
Print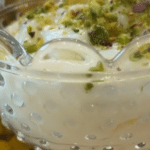 ---
Description
This Afghan custard, firni (firini, phirni) is unique in flavor and texture. If you want something to wow guests, but that also seems familiar, look no further.
---
3 cups milk (any sort of milk will be ok)
3tbs corn starch
3/4 cup sugar
1/4 tsp cardamom
3-4 saffron threads soaked in 1tblsp hot water
1/4 tsp salt
2 tsp rose water
Pistachios for garnish
---
Instructions
1. Mix the corn starch into 1 cup of folded milk until lump-free.
2. Heat 2 cups milk with the sugar on medium heat and stir until sugar dissolves and tiny bubbles form around the edge of the pan. Stir continuously to prevent it from sticking or burning.
3. Next,add the corn starch slurry. Stir constantly on medium-low heat until the mixture thickens. Make sure you scrape the bottom to prevent it from sticking or burning.
4. After that, add the salt, cardamom, saffron, and rose water.
5. The mixture is done when it coats the back of the spoon and doesn't runoff. Take your finger and draw a line down the back of the spoon. If the custard doesn't run, it's done.
6. Next, pour the custard into a dish and cover with plastic wrap. Ensure the plastic touches the custard to prevent a film from forming on the top. Let cool until firm.
7. Top with pistachios and serve.
Recipe Card powered by