Let's make Sheer Chai and Firini Donuts today!
Afghan cuisine is known for its delicious and unique flavors. Sheer chai and firini are two of our favorite Afghan dishes, so we decided to put them together to make a tasty donut! First, our sheer chai dough is flavored with traditional Afghan spices and then filled with a sweet firini pudding.
Finally, we glaze the donuts with a rosewater glaze and then top them with pistachios for an extra bit of flavor. Trust us; these donuts will wow your family!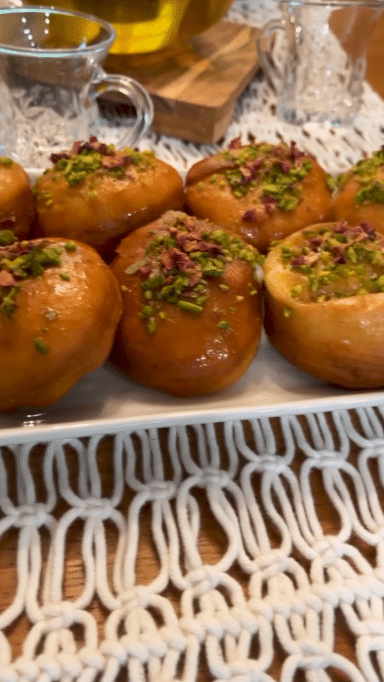 First, Make Your Firini Filling
Firini is a classic Afghan pudding. You will want to make this first so it has time to set up and develop flavor. Luckily, we have a full recipe and video for you here.
Go make that recipe, then come back here to make the donuts.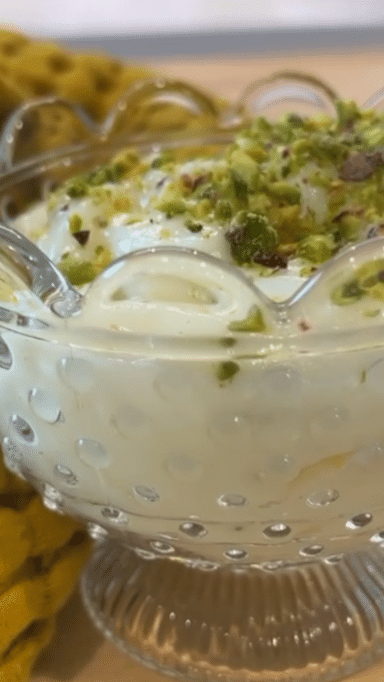 Tips on Making a Delicious Yeast Donut
We have our full recipe for the Sheer Chai and Firini Donuts below. However, I wanted to share the most important tips when making a good quality yeast donut. You can use these tips when making any donut. They are:
Make sure your ingredients are all at room temperature before beginning. This includes the milk, eggs, and butter. Room temperature ingredients will mix together more easily and produce a smoother dough.
Be careful not to overmix the dough. Overmixing will result in a tough donut. Mix just until the ingredients are combined.
Let the dough rise in a warm, draft-free place. We like to put our dough in the oven with just the light on. This creates the perfect environment for the dough to rise.
Be sure to fry your donuts at the correct temperature. If the oil is too hot, the outside of the donut will be cooked before the inside is cooked through. If the oil is too cool, the donuts will absorb too much oil and be greasy. The perfect frying temperature is 320 degrees Fahrenheit.
Let your donuts cool completely before glazing. This will allow the glaze to set properly and not run off the donut.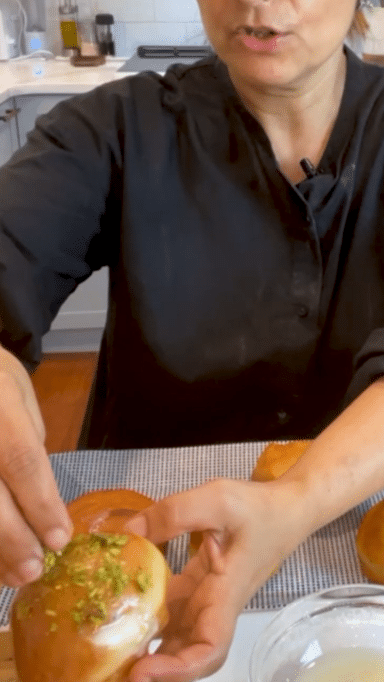 The Sheer Chai and Firini Donuts Recipe
You can find below our easily printable recipe for the donuts. If you have any comments or questions, please leave me a comment below.
Are you a fan of Afghan Cooks and want to help spread the word? Well, social media is critical. Finally, don't forget us on social media. We are on Tik-Tok, Instagram, and Youtube.
We also have a wonderful non-spammy Afghan Cooks Club. Sign up for that too!
Want Secret Recipes? News Updates?
Subscribe to our Afghan Cooks Club now. (free secret recipe for signing up)
Print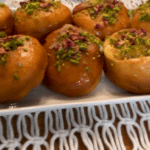 Sheer Chai and Firini Donuts: A Delicious Afghan-Inspired Dessert
---
Description
This is an Afghan-inspired donut. The dough is flavored with sheer chai milk tea and the filling is a traditional Afghan firini pudding.
---
Firini Fillings Recipe and Ingredients Here
Masala Flavoring Ingredients
3/4 Cups Milk
Pinch of Saffron
1/2 Teaspoon of Cardamom
Donut Dough Ingredients
3/4 Cup Milk (warm)
1 Packet of Yeast
1/8 Cup of Sugar
2 Eggs Beaten
3.5 Cups of Flour
1 Stick of Butter (melted and cooled)
1/2 Teaspoon of Salt
Vegetable Oil for Frying
Icing Ingredients
Milk
Lid full of Rose Water
Powdered Sugar
1 Black Tea Bag
---
Instructions
1. the First step, make your firini pudding filling.
2. Next, prepare your chai base. In the pot place your 3/4 Cup milk, pinch of saffron, and 1/4 teaspoon of cardamom. Bring to boil and let simmer, then set aside and let steep.
3. Next, prepare your yeast mixture. In bowl, add yeast, warm milk, and sugar. Let it get nice and foamy.
4. Pull out your stand mixer. Then, add your yeast mixture, your chai, two beaten eggs, and 1 stick of butter melted and cooled.
5. Start your mixer and add your 3.5 Cups of flour 1/2 Cup at a time. Once your dough has come together, roll it out on your kneading surface.
6. Knead dough until it stops sticking to the surface. Watch the video to get the right consistency. Don't over-knead.
7. Place dough back in a greased bowl and cover. Let double in size. This takes about 1 hour.
8. After dough has rested, take out and roll to 1/2 inch thickness. Cut with cookie cutter or any other round donut shape cutter.
9. Again, let them rest for about 40 minutes on tray after you have cut out your donut dough.
10. Now, prepare to fry your donuts. Get your vegetable oil to about 320 degrees. Prepare a cookie sheet with a rack on top to place your donuts on to cool and drain after you cook each one. Let them all cool before filling.
11. Now, prepare your glaze. This is a simple mixture of milk, powdered sugar, and the rose water. Mix thoroughly.
12. Once donuts have cooled, fill your donuts with the firini pudding and then glaze and cover with any toppings you like. I use pistachios and rose petals.
3. In your stand miker
Recipe Card powered by