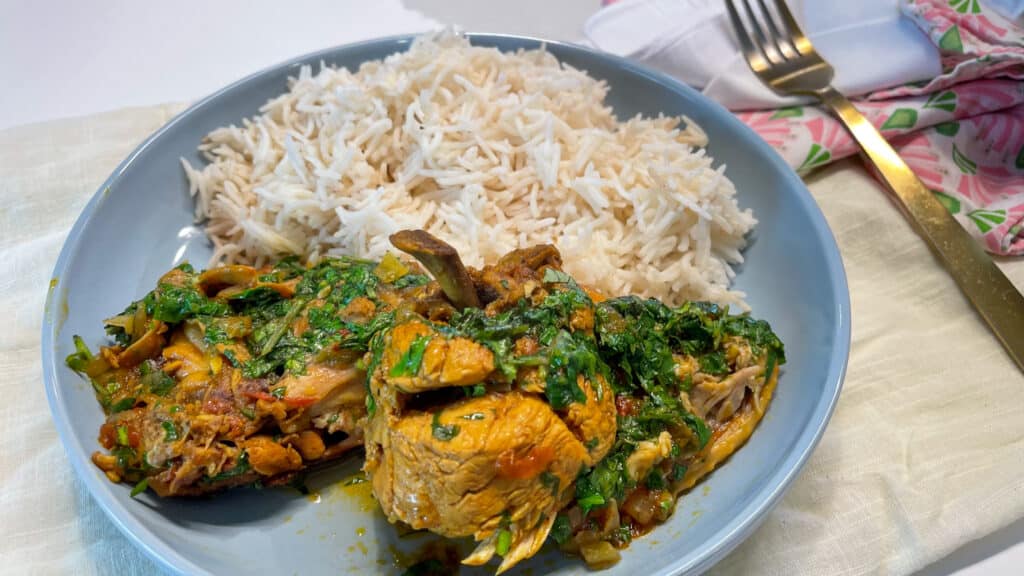 Let's make some instant pot chicken. (and rice)
If you're looking for an easy and delicious Afghan meal, you'll love this chicken ghorma recipe. It can be made in an Instant Pot, so it's fast and convenient. This dish is packed with flavor and will satisfy your cravings for something new.
Let's get started!
Why Use the Instant Pot
Instant pots are incredible because:
– They're fast. You can have a meal in minutes.
– They're convenient. Everything is in one place.
– They're easy to use. Even if you've never used an instant pot before, you'll be able to make this dish with ease.
– They're versatile. You can make all sorts of dishes in an instant pot, from chicken ghorma to cheesecake.
Basics of this Instant Pot Chicken Recipe
The basics of this recipe are pretty simple. Afghan cooking is not complicated, but the techniques take a long time. We love braised meats and stews. That is why the Instant Pot is so helpful.
Chicken ghorma typically uses meat on the bone chicken. You get so much more flavor that way. That process can take hours. With an Instant Pot, it takes minutes.
I don't get caught up in the battle for "authentic." I stick to the main idea of this recipe and add a few more spices like chili powder, garlic, and turmeric to enhance the flavor.
Killer Technique from The Ministry of Curry
Major shoutout to The Ministry of Curry for the technique used in this video. I had never tried cooking the rice and meat together in the Instant Pot. I have to admit; I was pretty nervous. But her technique works. Look at how delicious this is!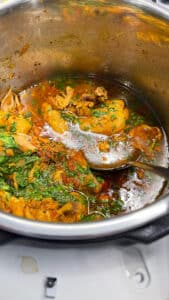 Printable Instant Pot Chicken Ghorma Recipe
As always, we make this recipe easy to print and replicate. I suggest you watch the video if you have any questions. Also, leave a comment. I always respond.
Are you a fan of Afghan Cooks and want to help spread the word? Well, social media is critical. Finally, don't forget us on social media. We are on Tik-Tok, Instagram, and Youtube.
We also have an excellent non-spammy Afghan Cooks Club. Sign up for that too!
Want Secret Recipes? News Updates?
Subscribe to our Afghan Cooks Club now. (free secret recipe for signing up)
Print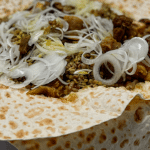 Afghan Dopiaza Meat Stew with Onions
---
Description
Afghan dopiaza is a classic dish made with onions "two ways."
---
2.5 pounds of bone-in meat (lamb, beef, or goat)
2 Tablespoons of cooking oil.
4 Large Onions
White Vinegar
2 Cups of Split Lentils (yellow is traditional)
3 Garlic Cloves Crushed
1 Teaspoon Salt
1 Teaspoon Tumeric
Ground Black Pepper
4 Cups of Water
---
Instructions
1. First, prepare your onions. Slice the onions very thin. Take half and set them aside. Take the other half and soak it in white vinegar for quick pickling.
2. Next, heat your pressure cooker so that you can saute. Add your cooking oil. Saute the onions until soft.
3. While the onions soften, simmer your lentil until soft in a different pot.
4. Add your crushed garlic cloves to the pressure cooker, and add your meat.
5. Now add some simple spices. The focus of the flavor is the meat and onions. Add your salt, pepper, and tumeric.
6. Then pour your 4 Cups of water over the meat. Stir.
7. Cook in your Instant Pot on high pressure, meat, and for 30 minutes.
8. For the base, you want to lay some thin bread over your platter. Then, spoon your meat. Add your cooked lentils over it and then, finally, add your pickled onions.
Recipe Card powered by
Print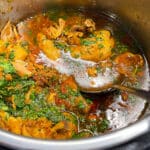 Instant Pot Chicken: Afghan Chicken Ghorma
---
Description
This Instant Pot Afghan Chicken Ghorma is delicious, quick, and a perfect cold-weather recipe.
---
1 Chicken (Whole, Cut Up)
2 Tablespoons Cooking Oil
1 Onion (Chopped)
3 Gloves of Garlic
1 Teaspoon Salt
1 Teaspoon Coriander
1 Teaspoon Cumin
1 Teaspoon Turmeric
1 Teaspoon Chili Pepper
2 Tomatoes (Grated)
2 Cups Basmati Rice
Boiled Water
Black Pepper
1 Teaspoon of Char Masala
---
Instructions
1. Break down your chicken, chop onions, and mince your garlic. Also, soak and rinse your 2 Cups of rice.
2. Next, set your Instant Pot to saute. Add your oil. Saute your onions until lightly browned. Then, add your garlic and cook for 45 seconds.
3. Next add your coriander, chili powder, cumin, turmeric, and salt.
4. Let your spices cook for a minute and then add your cut up chicken.
5. Take your two tomatoes and grate them with a cheese grater. This allows you to have crushed tomatoes with no skin. How cool, right?
6. Next, add your tomatoes. Let the chicken mixture cook and blend with your spice mix.
7. Now prepare your food for the pressure cooking. Take your boiling water and cover your chicken. You need enough water to make sure the chicken does not burn during the process. Take your trivet (watch video) and place it on top of the chicken. Then, take your bowl of rice (covered in water) and sit on top of the trivet that is on top of the chicken. Finally, add 1 teaspoon of salt and 1 teaspoon of char masala to the rice. Cover and cook for 10 minutes on high pressure.
Recipe Card powered by