Looking for a delicious and unique lemon cheesecake recipe? Look no further! This recipe is special because it is lemon-flavored, infused with cardamom, and served on a delightful ginger cookie crust.
Plus, since this recipe makes "mini-cheesecakes, "your guest will have their special treat. So why not give this lemon cheesecake recipe a try today?
(Looking for a super cool recipe? Try our Afghan Nachos)
You Know it's an Afghan Cheesecake When….
How do you know it is an authentic Afghan cheesecake? It has cardamom. The cardamom flavor goes perfectly with the rich cheesecake, the lemony tang, and the crunchy spicy ginger cookies.
If you ever want to make something Afghan, just add cardamom.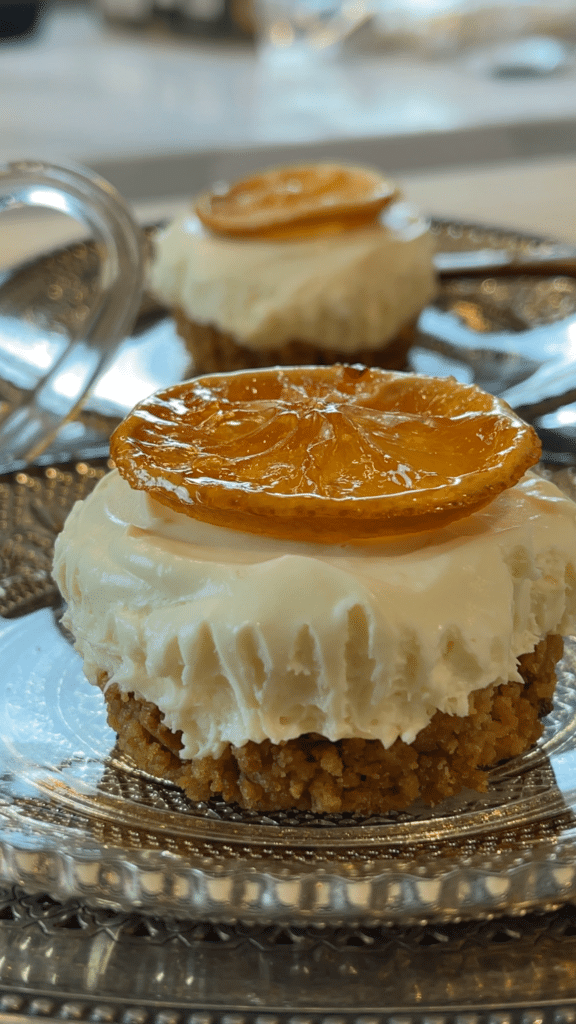 History of Cheesecake
Cheesecake is said to have originated in Greece. The earliest known cheesecake recipe was found in a cookbook from Athens in 230 A.D.
This recipe was for a cheese and flour cake. It wasn't until the 16th century that sugar was added to the recipe, making it more like the dessert we know and love today. Cheesecake became popular in America in the early 20th century.
New York City is primarily known for its cheesecake. Many of the most popular cheesecake recipes today come from NYC!
This Lemon Cheesecake Recipe
This is a great dessert for Iftar. You can prepare it in advance, which is crucial for Ramadan success when everyone is fasting.
I wanted something rich (cream cheese), something sour (lemon), something floral (cardamom), and something spicy (ginger cookies). This dessert has it all.
Again, one of the main points is to plan one day and make sure your cream cheese is at room temperature when you mix it.
Conclusion
Are you a fan of Afghan Cooks and want to help spread the word? Well, social media is critical. So, finally, don't forget us on social media.
We are on Tik-Tok, Instagram, and Youtube. So a quick way to be helpful is to share the below tweet on your Twitter.
Want Secret Recipes? News Updates?
Subscribe to our Afghan Cooks Club now. (free secret recipe for signing up)
Print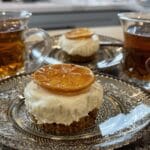 Lemon Cheesecake Recipe with Cardamom and Ginger Cookie Crust
---
Description
This lemon cheesecake recipe will delight your guests. Who doesn't love their deserts?
---
6 cupcake liners
Ginger Cookies
1 Teaspoon Ground Cardamom
3 Tablespoons of Melted Butter
1 Juice of Lemon
1 Package of Cream Cheese
1/2 Can of Sweetened Condensed Milk
Fronds of Saffron
Ingredients for Candied Lemon Topping
1–2 small lemons
1/4 cup sugar
---
Instructions
1. Crush your ginger cookies.
2. Next, take your melted butter and thoroughly mix the butter and cardamom into the ground cookies. This will be your crust.
3. Next, your cheesecake. In a small bowl, place the juice of your lemon and sprigs of saffron.
4. After that, in a large bowl, place your cream cheese. Begin to whip. Then add your lemon juice mixture, mix more, and add your sweetened condensed milk. Mix all with a hand-held mixer or stand mixer until smooth.
5. Next, place cupcake tins in your cupcake tray. Sprinkle crust into the bottom of the cupcake tins.
6. Use an ice cream scoop to scoop your cheesecake into each tin. Allow sitting overnight.
7. Next day, make your candied lemons to put on top.
8. For the candied lemons, preheat your oven to 375. Line a cookie sheet with parchment paper.
9. Then, cut lemons in slices and lay in single layer on pan. Sprinkle the lemons with the sugar.
10. Finally, bake lemons until dry. Allow to cool before placing on cheesecakes.
Notes
Make sure your cream cheese is at room temperature. If it is not, it won't get as fluffy. This goes great with Afghan sheer chai.
Recipe Card powered by