Today you'll learn how to make biryani.
There is nothing like the smell of biryani cooking on a lazy weekend morning. This ancient dish, popular throughout Asia and the Middle East, is a delicious mix of rice, spices, and meat.
While it may take a little time to prepare, your guests will love it! In this article, we will show you how to make traditional biryani in your own kitchen.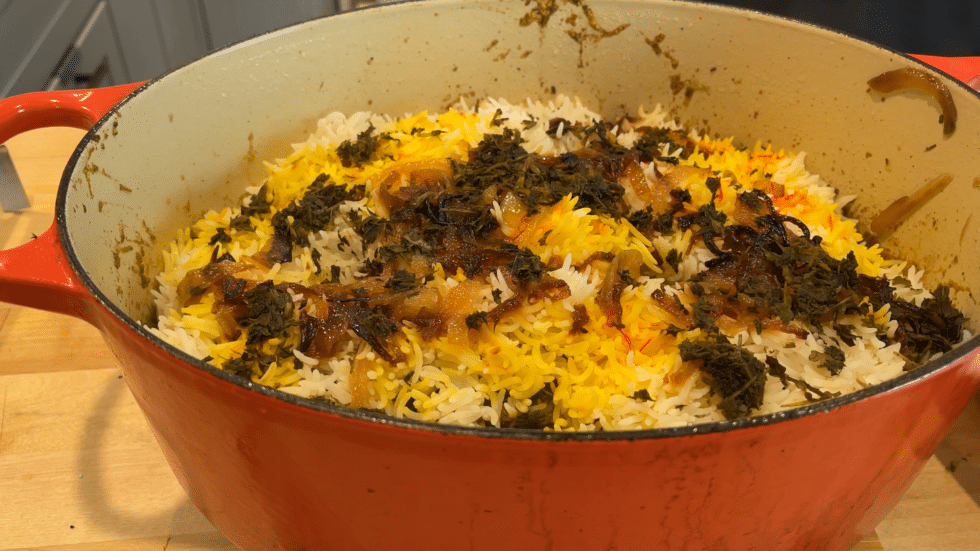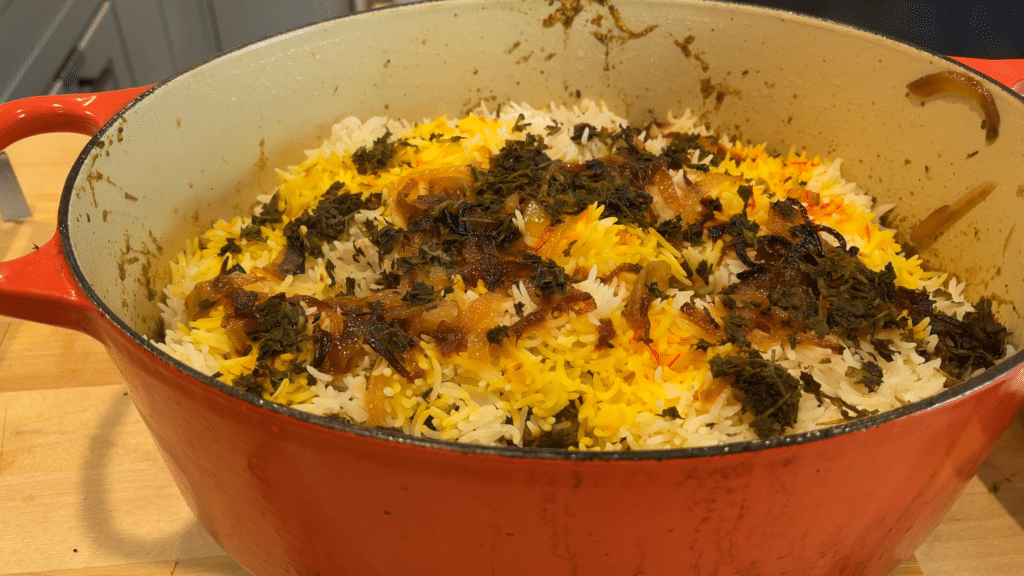 Inspired by Sohla El-Waylly
Sohla is an amazing cook. You can catch her on the internet here. She has done videos for many huge news outlets. Watch as much stuff of hers as you can, it's a treat.
I watched her on an episode of the History Channel's ancient recipes. She attempted to recreate biryani as it was made when it first appeared in the 1500s.
Biryani has a rich history that cannot be ignored. I highly recommend watching it.
My recipe borrows a lot from hers, but I make my own adaptations including using the traditional Afghan spice mix, char masala.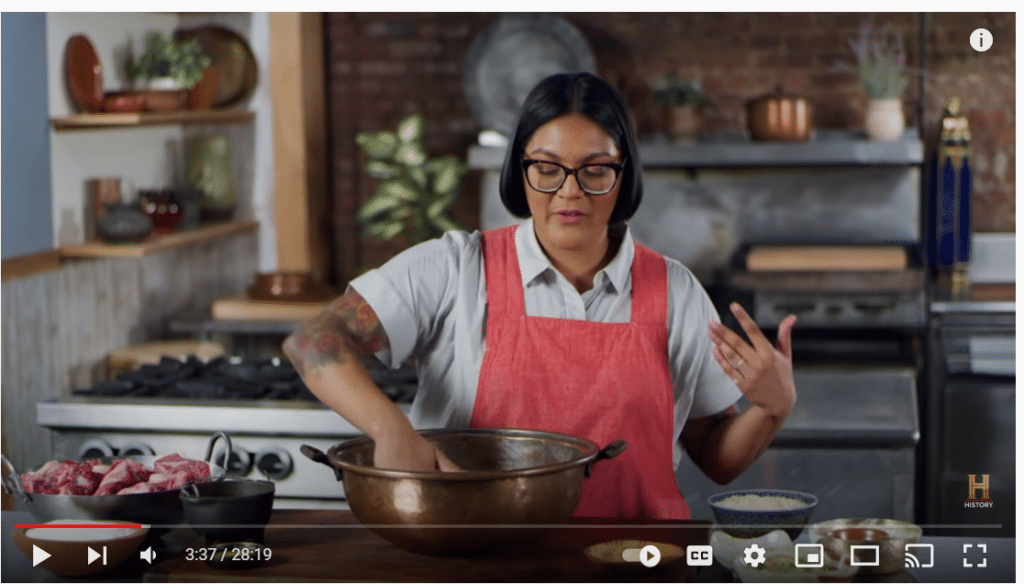 How to Make Biryani
There are a few key tips for making biryani. First, prepare prepare prepare. You want to make sure you have your meat marinading in advance as far as possible. You will not get the best depth of flavor if that does not happen.
The second big key is to par-cook your white rice. We have an easy recipe for that here, and a video here.
Finally, you want your onions fried not caramelized and you want to have the freshest spices available. You can buy black cardamom in our Afghan Cooks shop. Freshly ground spices and using fresh spices for the char masala are going to make a 100% difference in your flavors here.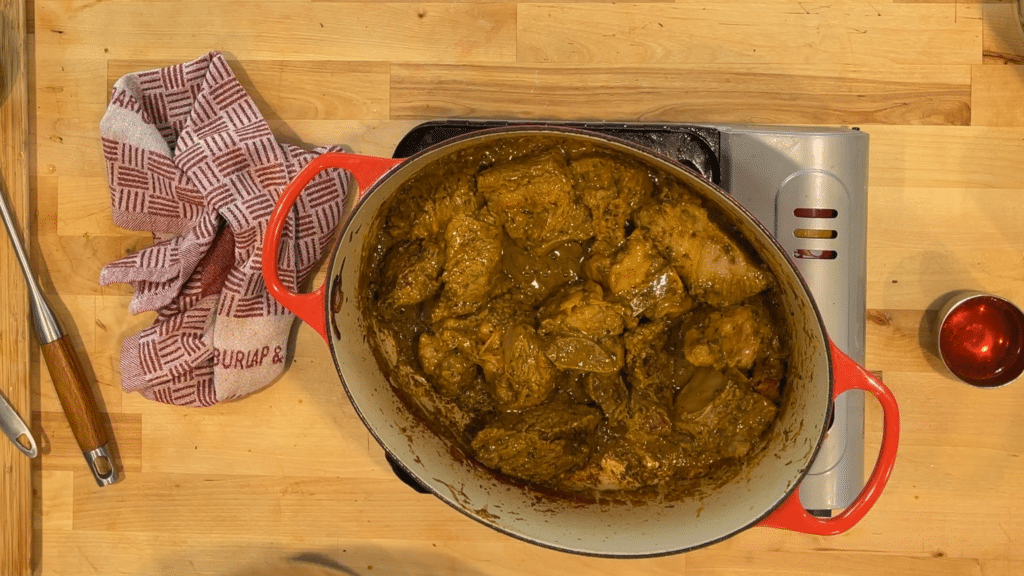 How You Can Help us Share this Biryani Recipe
You are the key to Afghan Cooks succeeding. We have the greatest supporters and every time you share this on Pinterest, Instagram, Facebook, and Twitter our popularity grows.
By sharing tweets like the one below, or pinning this recipe, you really help us out.
Want Secret Recipes? News Updates?
Subscribe to our Afghan Cooks Club now. (free secret recipe for signing up)
Print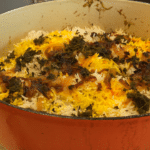 How to Make Biryani: A One-Pot Meal Your Guests Will Love
---
Description
This biryani recipe is a slightly different take on a dish that is easily 500-600 years old. Maybe older.
---
Meat and Marinade
1 Lb Beef Shoulder
2 Cups Yogurt (can use our homemade yogurt)
1 Tablespoon Char Masala
1 Tsp Tumeric
1 Tsp Fennel Seeds
1 Tablespoon of Salt
2 Tablespoons Ginger Garlic Paste
1 Bunch Mint (food processed)
1 Bunch of Cilantro (food processed)
Rest of Ingredients
3/4 Cup vegetable oil
2 Onions sliced
Saffron (healthy pinch)
1 tsp star anise (crushed)
1 tsp black cardamom (crushed)
1 tsp cumin seed
---
Instructions
1. The very first step is to marinate your beef. Preferably, you do this 24 hours in advance, or at the latest, you will make your biryani in the early morning or the evening. Mix your marinade ingredients with the lamb and cover overnight.
2. Next, watch our video on how to make challow. This will be the first step in preparing your rice. Follow that recipe to the par-boil stage. It is at the 6:04 minute mark in the video. Please review this video and recipe before starting this recipe.
3. Once your rice is par-boiled, proceed to this step. Take a large pot and place oil in a pot. Fry your onions to a golden brown. Don't caramelize them; fry them.
4. Next, prepare your saffron mixture. Take a healthy pinch of saffron, add some salt, then pour some hot water over the mixture. This allows your saffron to bloom and will get you a beautiful golden-colored liquid.
5. Once onions are fried, take them out and set them aside. Next, add cumin seeds to the pan to toast along with crushed black cardamom and star anise. Toast until fragrant, about 30 seconds. Don't let it burn.
6. Add the beef to a hot pan with spices. Let the meat par-cook. Allow sauce to reduce. Took me about 6 minutes.
7. After this, I added a little more oil. About two tablespoons.
8. Now, we start our layers. Before I started making the layers, and after I made the challow rice, I rinsed the rice in cold water.
9. Now layering, add one layer of rice over the meat. Add a layer of fried onions. Next, a layer of herb mixture. This herb mixture is the other 1/2 of the mint and cilantro. Then I added about 1/4 Cup of water to help it steam. Then, another layer of onions, another layer of herbs, and finally, the saffron water on top.
10. So, I made holes in the rice for the steam. (just like I showed you how in the challow recipe)
11. Cover pot with lid, and then wrap in aluminum foil. Cook for two hours on medium-low heat.
12. Take rice out of oven and plate your biryani on a beautiful platter.
Recipe Card powered by