Looking for my best recipes for 2022? I wanted to make an easy post with all the recipes in one spot.
I've collected my ten favorite recipes of 2022 here at Afghan Cooks. What are your favorite recipes that you made in 2022? Please share with me in the comments.
As always, we make the recipes easy to print and replicate. I suggest you watch the videos if you have any questions. Also, leave a comment. I always respond.
I made a complete YouTube playlist with each of these videos here.
Are you a fan of Afghan Cooks and want to help spread the word? Well, social media is critical. Finally, don't forget us on social media. We are on Tik-Tok, Instagram, and Youtube.
Want Secret Recipes? News Updates?
Subscribe to our Afghan Cooks Club now. (free secret recipe for signing up)
Print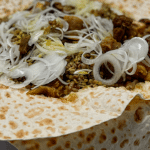 Afghan Dopiaza Meat Stew with Onions
---
Description
Afghan dopiaza is a classic dish made with onions "two ways."
---
2.5 pounds of bone-in meat (lamb, beef, or goat)
2 Tablespoons of cooking oil.
4 Large Onions
White Vinegar
2 Cups of Split Lentils (yellow is traditional)
3 Garlic Cloves Crushed
1 Teaspoon Salt
1 Teaspoon Tumeric
Ground Black Pepper
4 Cups of Water
---
Instructions
1. First, prepare your onions. Slice the onions very thin. Take half and set them aside. Take the other half and soak it in white vinegar for quick pickling.
2. Next, heat your pressure cooker so that you can saute. Add your cooking oil. Saute the onions until soft.
3. While the onions soften, simmer your lentil until soft in a different pot.
4. Add your crushed garlic cloves to the pressure cooker, and add your meat.
5. Now add some simple spices. The focus of the flavor is the meat and onions. Add your salt, pepper, and tumeric.
6. Then pour your 4 Cups of water over the meat. Stir.
7. Cook in your Instant Pot on high pressure, meat, and for 30 minutes.
8. For the base, you want to lay some thin bread over your platter. Then, spoon your meat. Add your cooked lentils over it and then, finally, add your pickled onions.
Recipe Card powered by