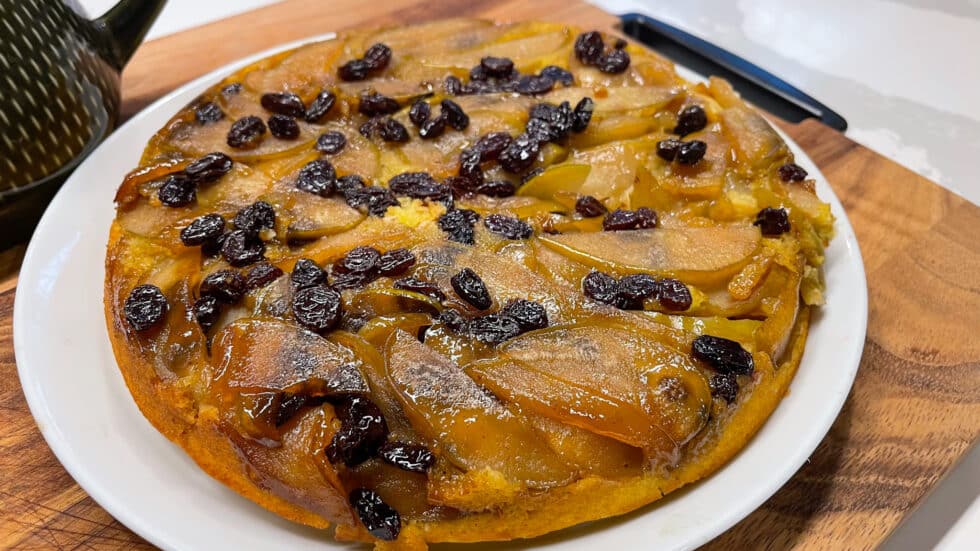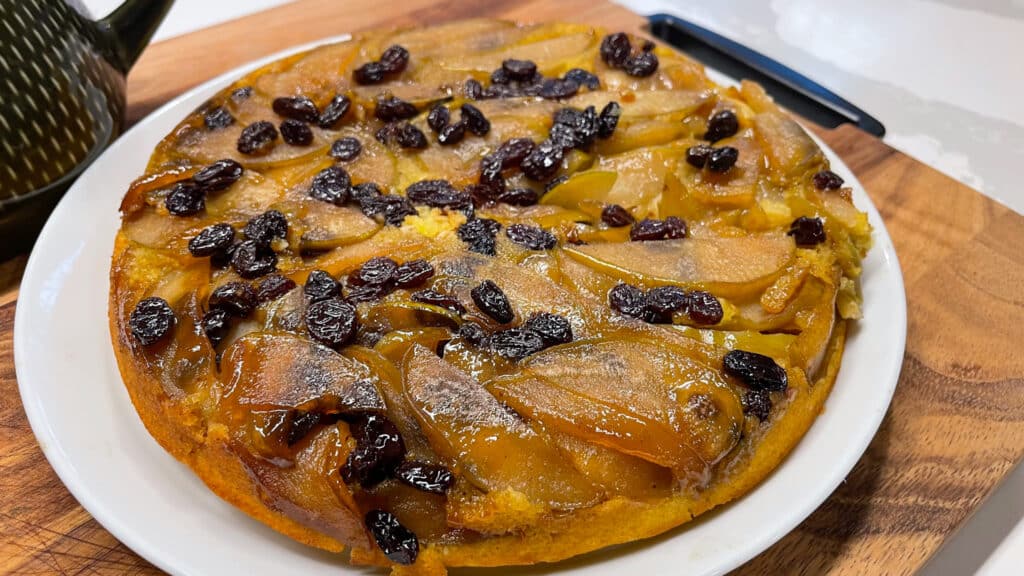 There's nothing quite like a delicious upside down cake, and today I'm going to show you how to make an Afghan version of this classic dessert.
This recipe uses some popular flavors in Afghanistan, so it's sure to be a hit with your friends and family! I hope you enjoy it.
History of Upside Down Cake
American pineapple upside down cake became popular after the 1920s when the Dole pineapple company printed the recipe after they ran a contest.
Of course, putting fruits in the bottom of a dish to caramelize is not new. The French have been making tart tatin for many, many years. I made a savory tarte tatin with eggplant here.
The delicious benefit of this technique is you can get a rich carmalized bottom to your dish while the cake remains nice and fluffy on top.
Familiar Afghan Flavors
I added some saffron, raisins, and saffron to make this Afghan. These are all flavors that you've seen in our Afghan recipes time and time again.
Using the saffron in the batter makes for a delicious golden color. Your guests will go oooh and ahh. My recipe was inspired and partly based on my friend Maryam Zekria's cobbler recipe here. Follow her on Instagram; she is fantastic.
Easily Printable Upside Down Cake Recipe
As always, we have a quick and easily printable recipe below. If you like this recipe, please leave a review. The more reviews you go, the better the search engines like our videos. Also, please take a minute to subscribe to our YouTube video channel. Leave a comment!
Did you see a kitchen appliance that I used and loved it? I've put all the things here in my influencer store. I get a small commission if you buy anything, and you help support these free recipes!
Want Secret Recipes? News Updates?
Subscribe to our Afghan Cooks Club now. (free secret recipe for signing up)
Print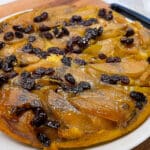 Upside Down Cake – Afghan Style
---
Description
This is a delicious apple upside down cake inspired by Afghan flavors.
---
3 Apples Thinly Sliced
Juice of one Lemon
1 teaspoon of vanilla
1 teaspoon of rose water
1 teaspoon of cinnamon
1 Tablespoon of cornstarch
1 Cup of Flour
1/2 Sugar
1 Cup of Milk (warmed and steeped with saffron)
6 Tablespoons Melted Butter
1 Teaspoon Vanilla Extract
1/2 Teaspoon of Salt
1/2 Cup Slivered Almonds
1/2 Cup Raisins
Saffron
---
Instructions
1. Preheat your oven to 350 F.
2. Get your milk and warm in saucepan and drop saffron in to steep. Let cool.
3. In one bowl add your batter ingredients: flour, sugar, saffron infused milk, 4 tablespoons melted butter.
4. Next make your bowl for your fruit mixture: thinly sliced apples (not too thin), lemon juice, cinnamon, vanilla, lemon juice, and cornstarch. Mix.
5. In your skillet, melt two tablespoons of butter. Then add your apple mixture, cook down until the apples are a little golden but not mushy at all. Add rose water and top with the slivered almonds.
6. Next, pour your batter over the apples and then place in your preheated oven for about 30-40 minutes until golden brown on top and a toothpick comes comes clean out of the middle.
7. Serve with some sheer chai.
Recipe Card powered by