Let's make some Afghan Eggplant. (But, different this time)
If you are new to Afghan food, you will come to love our eggplant dishes. If you have been around, you already know we do eggplant best.
You can check out our eggplant dip recipe, or our borani banjan recipe.
Today's recipe is part of our original recipe creation collection. We merge French and Afghan in this tarte tatin recipe. First, what is tarte tatin?
Like Nachos? Like Afghan food? Try our original Afghan Nachos recipe here.
What is a Tarte Tatin?
The tarte Tatin is a French upside-down tart in which the fruit is caramelized in sugar and butter before the tart is baked. The most common type of tarte Tatin uses apples, but this dish can be made with any fruit. The dish is named after the Tatin sisters, who ran a hotel in France where they served this tart.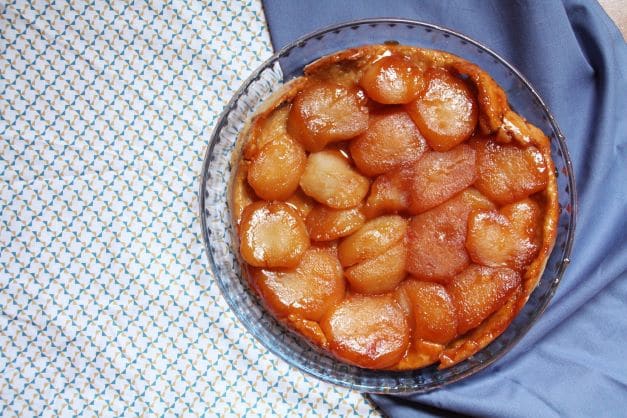 Not all French tarte tatins are sweet. There are, for example, some delicious caramelized onion tatins.
So, how do we merge the ideas of the tatin to Afghan Eggplant?
Using Afghan Eggplant in a Tarte Tatin
A lot of things from Afghan Eggplant work perfectly with the idea of a tarte tatin. First, the onions.
One of the signature flavors paired with Afghan eggplant is onions. We also love caramelized or fried onions, just like the French. Caramelizing onions gets you an amazing combination of sweet and savory flavors.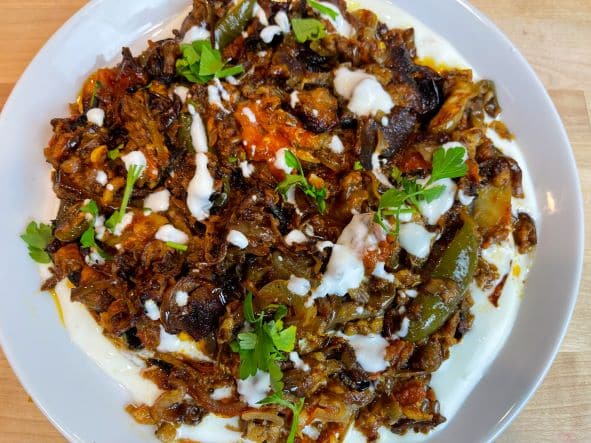 The other Afghan secret ingredient is qurut (sometimes called Kashk). It is a drained yogurt that can be formed into extremely dense hard balls. Or, as is often sold in Persian grocery stores, it is a thick light brown paste.
The original purpose of making qurut was to preserve it. Taking the moisture from the yogurt extends the shelf life for months. You may not think you can find qurut or kashk in your grocery store, but I bet you can. If not, we sell it in our store here. If you want the true qurut style (hard balls), can buy it here.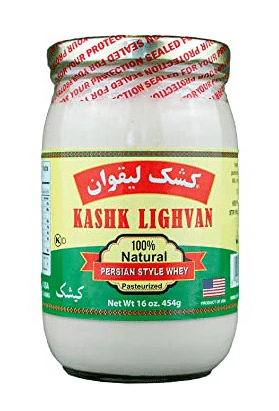 The way we cook our eggplant and onions in our dishes lends perfectly to the tarte tatin. Once you pull this dish out of the oven you will have the deepest and most complex of flavors.
The qurut adds to that complexity. Think of all of the best flavors of yogurt, but heightened. The flavors transform from yogurt to rich french cheeses due to the preservation. (again, making it perfect for a french crossover)
Printable Afghan Eggplant Tarte Tatin Recipe Below
As always we make this recipe easy to print and replicate. I suggest you watch the video if you have any questions. Also, leave comment. I always respond.
The tomato sauce base is a recipe that I use in many recipes now. Once you get the hang of that you can use it with Afghan dumplings. Heck, it would even be great over noodles!
Are you a fan of Afghan Cooks and want to help spread the word? Well, social media is critical. Finally, don't forget us on social media. We are on Tik-Tok, Instagram, and Youtube.
We also have a wonderful non-spammy Afghan Cooks Club. Sign up for that too!
Want Secret Recipes? News Updates?
Subscribe to our Afghan Cooks Club now. (free secret recipe for signing up)
Print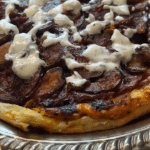 Afghan Eggplant – A Delicious Tarte Tatin
---
4 Eggplant
1 Onion
1 Potato
1 Tablespoon of Qurut
1 Tablespoon of Yogurt
1 Teaspoon Coriander
1 Teaspoon of Coriander
1 Teaspoon Onion Powder
1 Teaspoon of Garlic Powder
2 Tablespoons of Tomato Paste
1 Teaspoon of Salt
1 Tablespoon of Vinegar
1 Cup of Water
1 Sheet of Puff Pastry
Oil for Cooking Eggplant
---
Instructions
1. Slice your eggplant, thin. Next, salt it and place it on the tray. We need to leave eggplant for at least 30 minutes, preferably for a few hours. This salt allows the excess moisture to be drawn out.
2. Heat oil in a pan and then fry eggplant in batches. Watch the video, and you want it just lightly browned. Can put on a paper towel to remove excess oil. Set aside.
3. In the same pan, add another tablespoon of oil. Place coriander and cumin into toast before the next step.
4. Next, add your tomato paste, garlic powder, salt, and onion. Stir and cook for about a minute until tomato paste starts to darken. Then, add water. Stir until it thickens again. Then, add your vinegar. Stir and remove from heat.
5. Slice potatoes thin and set aside.
6. Slice onions into thin rings, and set aside.
7. preheat the oven to 375 degrees Fahrenheit.
8. Roll out puff pastry and cut a circle the same diameter as your pan.
9. In a pie pan or tarte pan, spread your tomato sauce. Then, add your eggplant leaving about 1/2 inch around the pan.
10. Then, add your onion rings on top of the eggplant. After that, add the potatoes to go all the way to the edge of the tarte pan.
11. Spread your puff pastry with the krut mixture. I use a pastry brush. Place the puff pastry over the ingredients, krut the side down. Make sure that the edges are tucked inside your tin or pan.
12. Make slashes into the pastry and place in preheated oven to cook for 35 minutes or until golden brown. Your pastry will not puff because you have made the slashes. That's ok.
13. After cooking, remove from oven and allow to cool. Then, the flip. Place plate large enough to cover the tarte, grab tightly, and in one swift movement, flip. You may wish to score around the edge of the tin to loosen it.
14. If it does not all come out, don't worry; just put it back together. It will be so delicious no one will care.
15. Add krut to the top and serve.
Recipe Card powered by