Let's make Afghan beef ghorma today.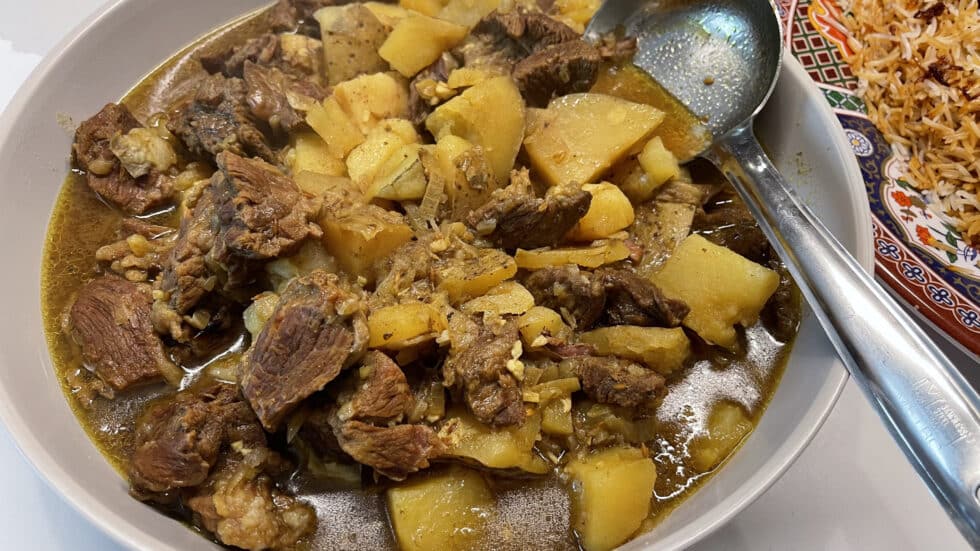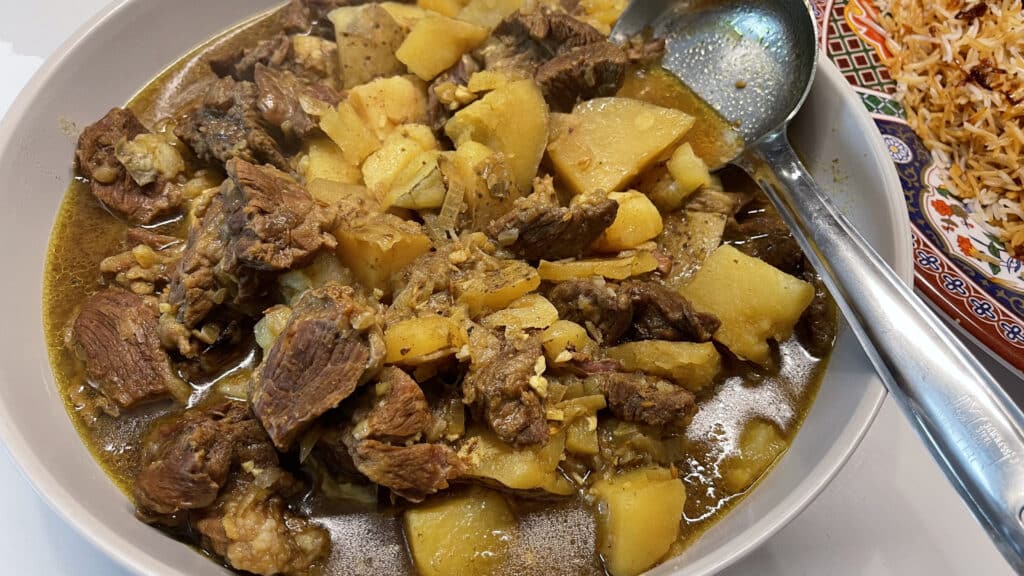 There's nothing quite like a warm, hearty stew on a cold winter day. And afghan beef ghorma is one of our favorites! This dish is made with stew meat and potatoes and served over rice. We usually eat it with a salata, which is an afghan salad. If you're looking for a delicious and warming winter meal, give this afghan beef ghorma recipe a try!
Beef Stew is an excellent Cold-Weather Dish
Stews with hearty meat and potatoes are common around the world. There is Portuguese fish stew, goat stew, Persian beef stew, and many others. What is expected in Afghan beef ghorma?
We always use our standard seasonings cumin, coriander, etc. We typically slow cook these meats, but I show you how to utilize an Instant Pot to make this into a 45-minute meal.
Looking for some other cold-weather dishes, check our recipe round-up here.
Instant Pot Afghan Beef Ghorma is Fast
Instant Pot recipes have been the rage for years. But, for those who don't know, an Instant Pot is just a fancy pressure cooker. A pressure cooker works just as well.
I highly recommend that your kitchen have an Instant Pot or pressure cooker. If you are working, making many flavorful dishes is almost impossible during the work week if you don't have one.
Printable Recipe for this Beef Stew
As always we make this recipe easy to print and replicate. I suggest you watch the video if you have any questions. Also, leave a comment. I always respond.
Are you a fan of Afghan Cooks and want to help spread the word? Well, social media is critical. Finally, don't forget us on social media. We are on Tik-Tok, Instagram, and Youtube.
We also have an excellent non-spammy Afghan Cooks Club. Sign up for that too!
Want Secret Recipes? News Updates?
Subscribe to our Afghan Cooks Club now. (free secret recipe for signing up)
Print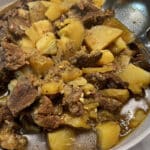 Afghan Beef Ghorma: A Delicious Beef Stew Recipe
---
Description
This Afghan beef ghorma recipe is the ultimate cold-weather comfort food. Try this Afghan version of beef stew.
---
2 lbs Chuck Roast (or other roast meat, trimmed)
3 Potatoes
1 Medium Onion (finely chopped)
4 cloves garlic
1 bouillon cube
2 tablespoons of cooking oil
2 Teaspoons of cumin
2 teaspoons of coriander
1 teaspoon of turmeric
1 teaspoon of black pepper
1 teaspoon of salt
1 Cup Warm Water
---
Instructions
1. Turn Instant Pot on saute. Then, add cooking oil.
2. Saute onions. Let them cook down. Then, add your garlic.
3. Next, you will add your spices: cumin, coriander, turmeric, black pepper, and salt.
4. After that, add your meat and brown thoroughly. You want to cover the meat in spices and onion and garlic.
5.  Next, add your potatoes. Cover in 1 Cup of hot water and add the bouillon cube.
6. Set your Instant Pot for 30 minutes or cook in your pressure cooker until tender.
Recipe Card powered by