Vegetarian Afghan recipes are plentiful. If you are wanting to explore Afghan cuisine, but figured it was all meat, don't despair. We have vegetables for you. Our vegetarian dishes are comforting and delicious.
Afghan Sabzi: A Simple Vegan Afghan Dish
This Afghan Sabzi (spinach) recipe is super simple and 100% vegan. You can serve this as a side or a main if going meat-free.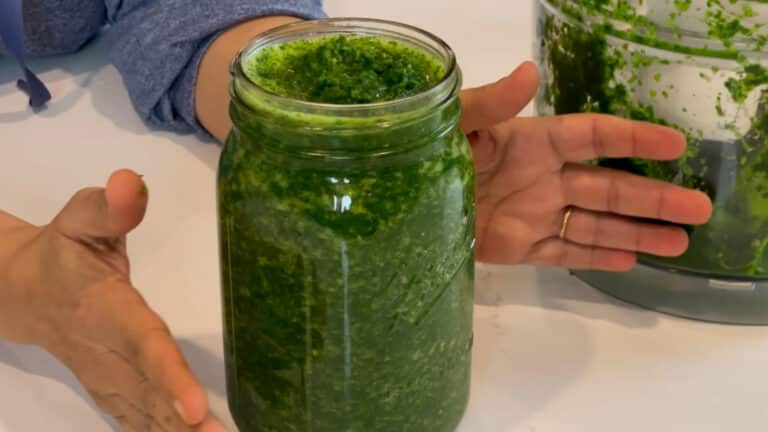 Afghan Green Sauce – Chatney – Cilantro Chutney
Afghans can't do without their pickles and pickled things. We eat a sour thing with just about every meal. This green sauce is hugely popular in Afghan restaurants and kebab shops. You can make it as spicy or as mild as you like. It's bracing with it's vinegar content and really is a nice addition
Bolani Recipe – Afghan "Hot Pockets"
Afghan Bolani is world famous. Now you have the bolani recipe! No, this isn't hyperbole, I mean it look it up yourself? You don't want to look it up? Ok, here's the link from CNN travel 2019 that backs me up. My kids gave this the name "Afghan hot pockets" when they were even younger than they
Afghan Ashak or Aushak Afghan Dumplings
Afghan Ashak or Aushak Afghan dumplings are a popular dish for both Afghans and non-Afghans alike. They can been seen at fancy parties or wedding dinners. They do take a lot of time but are worth it. Ashak (or "gandana") are a dumpling filled with leeks and, typically, covered in a meat sauce. Today, I
Afghan Eggplant Dip
Afghans love eggplant. I've loved it my entire life – fried, stewed, in an eggplant dip. Honestly, I didn't even know this dish could be served as a dip on it's own since we've always had it as a side dish with rice and meat and all the other good Afghan food. But, I've discovered that this creamy eggplant dish is fresh and satisfying on its own, no rice required! (But I mean, if you've got rice eat it!)
This dip is similar to babaganoush, which is the most well known eggplant dip that I know, but the addition of dill and mint making this a snack that wakes your mouth up. You can easily make this vegan by using a non-dairy yogurt or sour cream while keeping the rest of the ingredients the same. Serve it with bread, pita, or veggies on your charcuterie board, or just on it's own as an appetizer. Or as a side dish, the way Afghans do.
Afghan Eggplant: A twist, Barjan Tarte Tatin
Let's make some Afghan Eggplant. (But, different this time) If you are new to Afghan food, you will come to love our eggplant dishes. If you have been around, you already know we do eggplant best. You can check out our eggplant dip recipe, or our borani banjan recipe. Today's recipe is part of our
Afghan Qurooti: A Traditional Bread Pudding from Afghanistan
This Afghan bread pudding is savory, simple, and quick. You likely have everything you need at the house except maybe qurut or kashk. Don't worry, you can buy it in my store here.
Vegetarian Ash Noodle Soup with Qurut Shaved Topping
This vegetarian ash recipe will fill you up and is super easy.
Pumpkin Roll: Afghan Kaddu Masala Style
This pumpkin recipe is my Afghan spin. I lower the sugar, raise the pumpkin, and make this into a tasty dessert for your fall season.
Afghan Lubya A Perfect Kidney Bean Recipe
Afghan lubya is vegetarian and, served with rice, is a hearty meal. It can easily be made vegan by substituting a non-dairy yogurt for the Afghan yogurt sauce. Great for a cold-weather day.