This Afghan pasta dish is authentically. . . Connecticut. lol. This recipe is not native to Herat, Kandahar, or Kabul. It is a dish that Afghans made in various formats when they came to the US.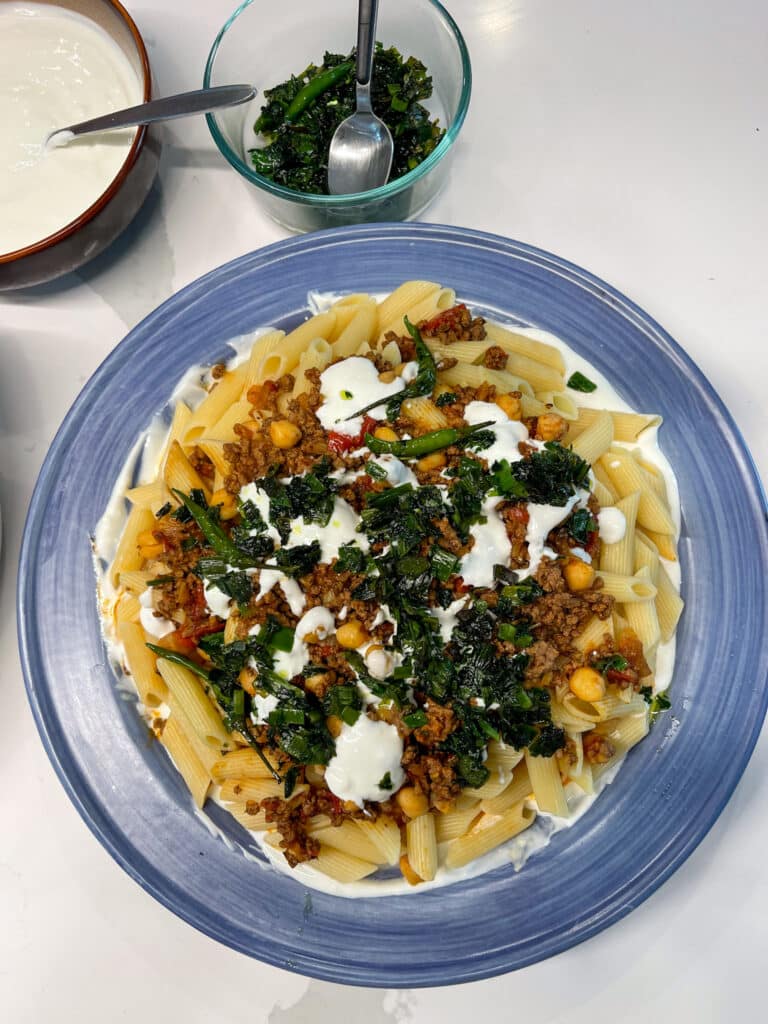 Afghans Love Carbs
Although Afghan pasta is not much of a thing in Afghanistan, we love carbs. Our primary carbs are bread and rice. We have lovely fresh vegetables in Afghanistan, but every meal usually has rice and bread.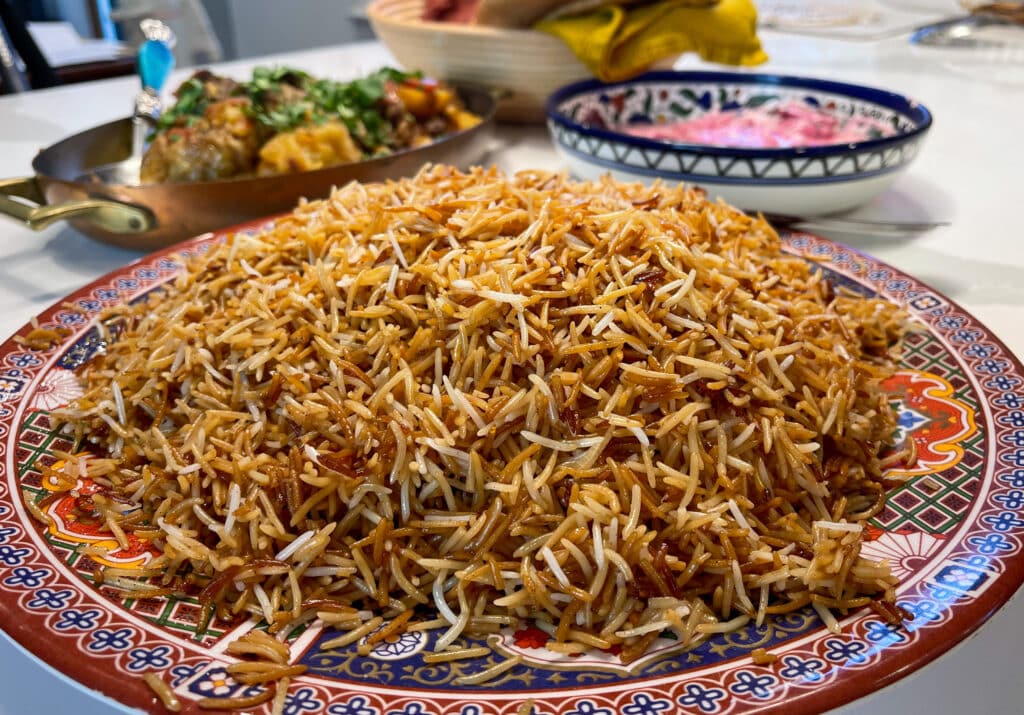 So, it's no surprise that Afghans in the diaspora started merging Afghan flavors with other carbs, like pasta. We do have our use of "pasta" in the form of dumplings like ashak and mantu.
Are you looking for an incredible recipe? Try this Afghan spaghetti where I use qurut instead of parmesan cheese!
Traditional Flavors in this Afghan Pasta
This pasta has cumin, tomatoes, yogurt sauce, and many other ingredients in traditional Afghan dishes.
I layer the flavors on this dish very similarly to how we serve our borani banjan, with yogurt sauce.
I used ground beef, but you could use ground lamb, chicken, turkey, or a meat substitute.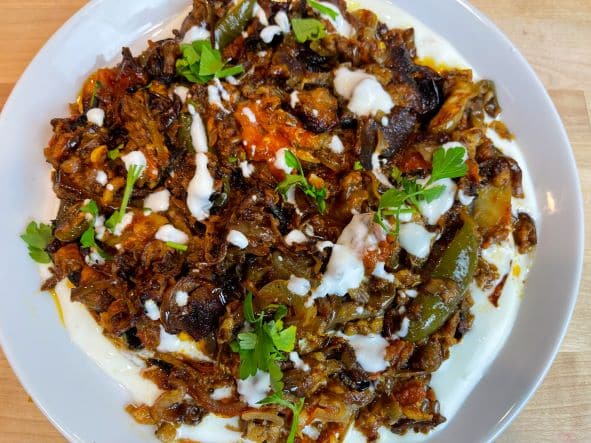 Printable Recipe
As always, we make this recipe easy to print and replicate. I suggest you watch the video if you have any questions. Also, leave a comment. I always respond.
Are you a fan of Afghan Cooks and want to help spread the word? Well, social media is critical. Finally, don't forget us on social media. We are on Tik-Tok, Instagram, and Youtube.
We also have an excellent non-spammy Afghan Cooks Club. Sign up for that too!
Want Secret Recipes? News Updates?
Subscribe to our Afghan Cooks Club now. (free secret recipe for signing up)
Print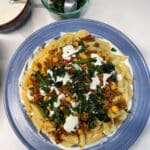 Afghan Pasta with Traditional Flavors
---
Description
This Afghan pasta dish is served with traditional Afghan flavors.
---
Vegetable Oil
1 onion chopped
2 lb ground beef or lamb
1 package of pasta
3 cloves of garlic chopped
1 garlic clove (to be grated)
1 Teaspoon Cumin
1 Teaspoon Coriander
1/2 Teaspoon Turmeric
Black pepper to taste.
3 large tomatoes.
1/2 can of tomato sauce.
1/4 cup of vegetable broth
1 1/4 cups non-greek yogurt
Chopped chives, parsley, small hot peppers
---
Instructions
1. Heat vegetable oil in a skillet.
2. Add one chopped onion. Cook until tender and slightly turned color, but not brown.
3. Add three cloves of garlic and one teaspoon of salt to the onions.
4. Add cumin, coriander, and turmeric.
5. Add your ground beef or lamb, and cook until browned. Add cracked black pepper to taste.
6. Add three chopped large tomatoes into the meat.
7. Add one-half can of tomato sauce and the vegetable broth.
8. Now, while that simmers, cook your bag of pasta according to the directions on the package.
9. Now, we will make the yogurt sauce. Mix yogurt, labneh, salt, lemon juice, and 1 grated garlic clove.
10. In a new pan, heat some more cooking oil. I fry small chili peppers, parsley, and chives and fry up. The topping stays beautiful green. Fry up for about 30 seconds. Optionally, you can top the dish with fried onions at the end.
11. Now, strain your pasta and then begin to assemble. Start with a layer of yogurt, then meat sauce, then pasta, then meat sauce, then yogurt, then fried greens, and optionally add your packaged fried onions.
Recipe Card powered by