Today we share our baked kofta kebab recipe.
There is nothing like the taste of grilled kebab. The smoky flavor from the grill just can't be beaten. But sometimes, you don't want to go through the hassle of firing up the grill. Or maybe it's too cold outside for that. No problem!
We've got a delicious recipe for baked kofta kebab that will satisfy your cravings. This dish is made with ground beef, layered with sliced potatoes, and then covered in a rich tomato sauce. So good, you'll forget all about those greasy kebabs from your favorite restaurant!
Origins of Kofta Kebab
The origins of kofta kebab are disputed. Some say it originated in Persia, while others believe it came from India. Regardless of its origins, this dish has become a popular menu item. Afghans will, of course, say it came from Afghanistan. 🙂
It is often made with ground lamb or beef and can be grilled or baked. Kofta kebab is typically served with rice or flatbread and various dipping sauces. (like our Afghan chutney)
My Inspiration for this Recipe
I found a TikTok video by Cooking with Mariyah. (Instagram TikTok) She does fantastic recipe videos. This recipe particularly struck me because I loved the aesthetic of the kebab meat alternating with the sliced potatoes.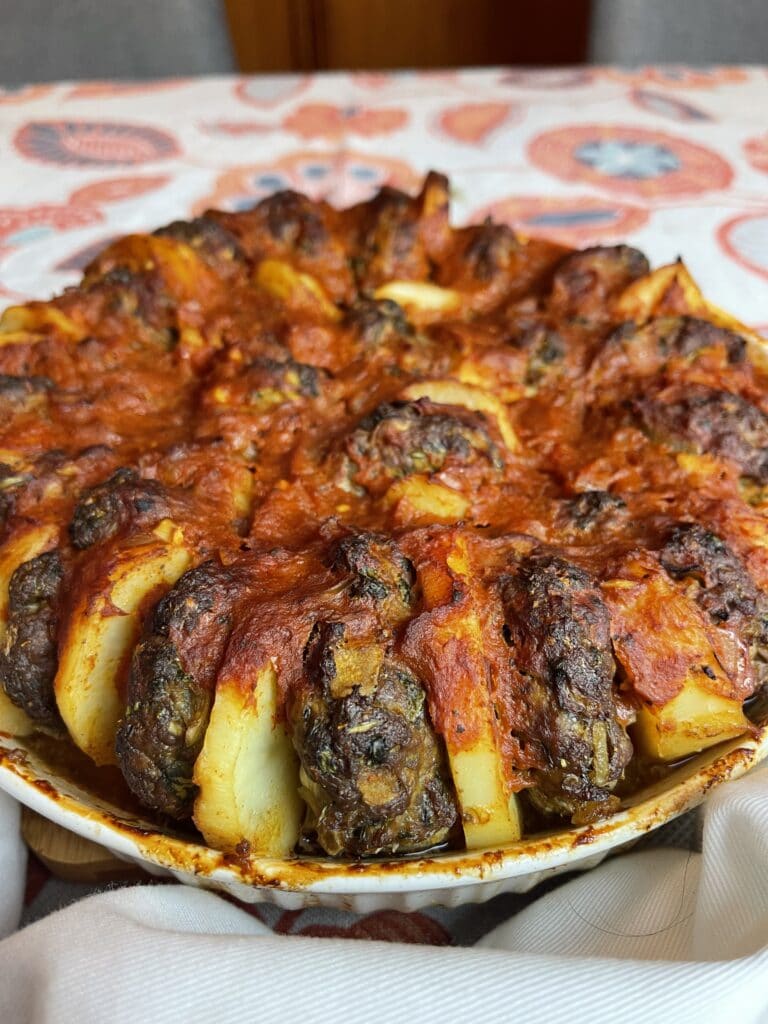 Of course, the benefit of baking kebab during Ramadan, or any other time, is that you don't have to pull out the grill. Time is precious during Ramadan, and everyone is tired.
This recipe is simple, and if you throw in an Afghan salata, you have an entire meal!
Changes to the Baked Kofta Kebab
I borrowed mainly from Mariyah's recipe, but I did change a few of the ingredients.
Specifically, I used the tomato sauce that I used in my mantu recipe here.
How can you help me? Well, social media is critical. Finally, don't forget us on social media. We are on Tik-Tok, Instagram, and Youtube. A quick way you can be really helpful is to share the below tweet on your Twitter.
Want Secret Recipes? News Updates?
Subscribe to our Afghan Cooks Club now. (free secret recipe for signing up)
Print
Baked Kofta Kebab Recipe: A Delicious, Grilled-Free Option
---
---
---
Recipe Card powered by