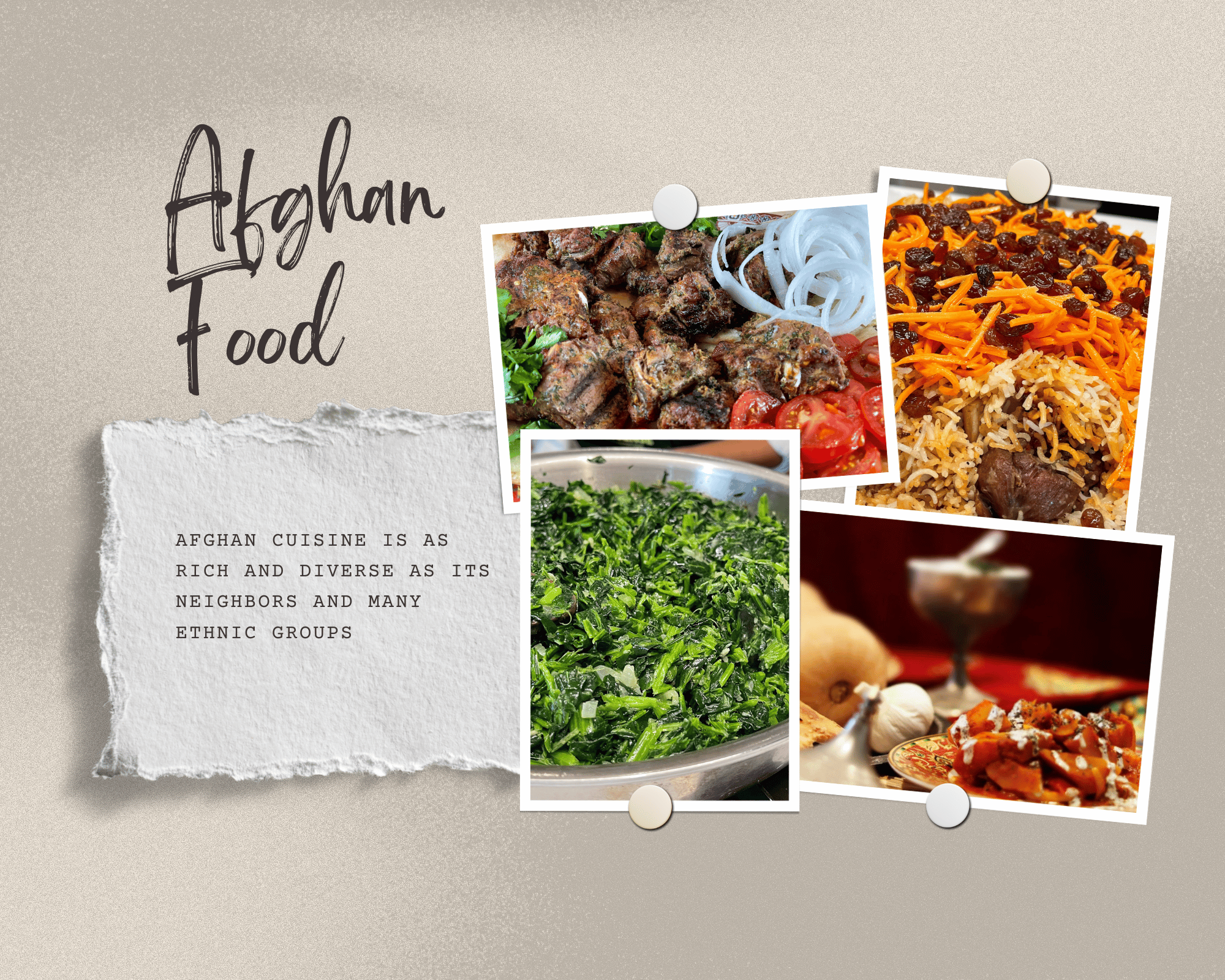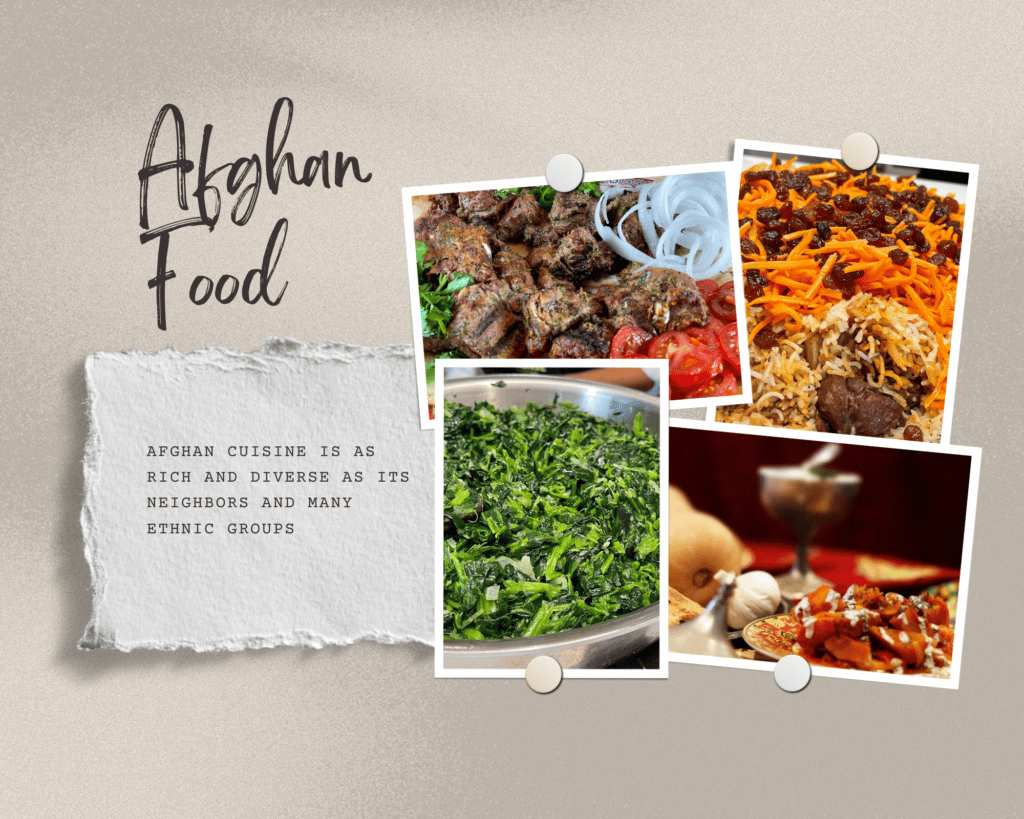 Afghan Food is a source of pride for all Afghans.
Our food is served with our world-famous hospitality. And, although many Afghans will tell you we are not influenced heavily by our neighbors, we are. And there is nothing to be ashamed of!
Afghan Food is Diverse
Afghanistan, from the time of the silk road and before, has been a crossroads. It connected trade between Asia, India, the Mediterranean basin, and eastern Africa. It is no surprise that our cuisine can see influences from all of these regions.
Internally, Afghanistan is made up of a culturally diverse group of beautiful people: Hazara, Pashtun, Tajik, Uzbek, AImaq, Turkmen, Baloch, and Sadat. Each of these ethnic groups contributes to the cuisine of Afghanistan as well.
For example, Uzbek pulao is extremely similar to the national dish, Kabuli Pulao. Tajik cuisine includes many dumplings, similar to Afghan mantu.
Afghan Dishes are Generally Not "Spicy"
There is some feeling among the "West" that any food from a brown-skinned country is probably spicy. That just isn't true, and it is not true about Afghan Food.
Afghan cuisine has its own spice culture, for example, char masala. You have likely heard the term masala when eating Indian cuisine, which shows some influence in Afghan cuisine. However, unlike garam masala, char masala has no chili powder.
Don't get me wrong, lots of Afghans eat spicy food and put chilies in their food. (I like chilies in my Afghan green sauce)
However, this seems to have occurred somewhat more recently as many Afghans were refugees in Pakistan during our war periods and picked up a love of chilies from our Pakistani brothers and sisters.
Afghans Love Rice
Afghans eat rice with every meal. It is the cornerstone of our diet. The types of rice are endless. Our national dish is kabuli pulao, a savory rice dish with lamb, carrots, and raisins.
We also have sabzi pulao (spinach rice), narenj pulao (orange), mandi pulao, and more. The rice dishes are endless.
Cooking rice can be pretty intimidating. Here is a great video on how to cook Afghan challow (rice).
Afghan Food Has Lots of Unique Recipes, Too!
Although our kebabs are delicious, we have much more exciting food to offer the world.
How about, Qurut!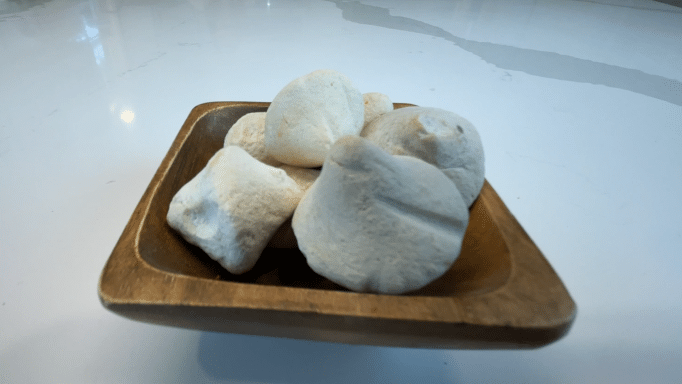 Qurut is the whey from yogurt. Imagine taking sour yogurt and extracting all of the liquid from it. This would give you the whey. Then, Afghans completely dehydrate it. This becomes qurut. They are like little hard balls of deliciousness.
We use qurut in recipes like Afghan Qurooti (a savory bread pudding). I've even experimented with using it as a parmesan cheese substitute and made an Afghan pizza! (you can buy qurut on my website here)
We also love pumpkins. But not pumpkin pie, no. We use our pumpkins in savory dishes. Our borani kadoo (pumpkin with yogurt sauce) is to die for.
We love Our Sours to Balance our Fatty Meats.
Afghans do love their stews and kebab. Throw in the obligatory naan (bread), and you really need something to cut through those carbs and rich fatty meat.
This is where our fresh and straightforward salata comes in. We don't use ranch dressings, just fresh veggies and some lemon and salt. That's it.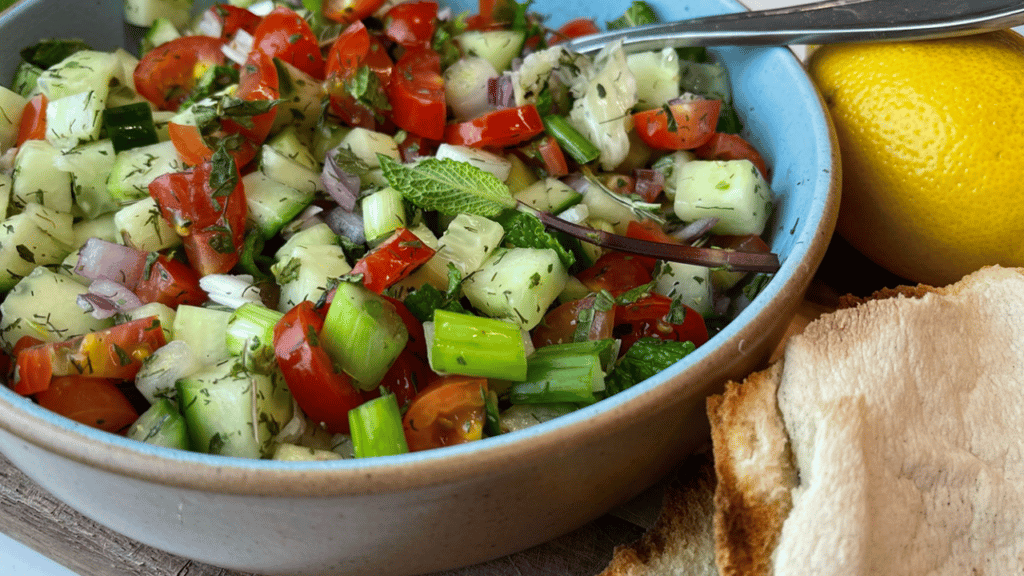 Another way we cut through the richness of our food is with our famous afghan chutnay and afghan yogurt sauce.
Join me on an Afghan Food Journey
I hope you found this article helpful. You can find all of my recipes here, and videos of my recipes here.
Are you a fan of Afghan Cooks and want to help spread the word? Well, social media is critical. Finally, don't forget us on social media. We are on Tik-Tok, Instagram, and Youtube.
We also have a fabulous non-spammy Afghan Cooks Club. Sign up for that too!
Want Secret Recipes? News Updates?
Subscribe to our Afghan Cooks Club now. (free secret recipe for signing up)